By M. Shamil Amit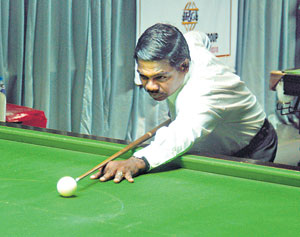 Sirisoma on his way to a another Billiads national final? (Pic Ranjith Perera)
Defending champion and national billiards record holder of 17 titles K.H. Sirisoma of Sri Lanka Ports Authority (SLPA) has laid the foundation of retaining the title for yet another year.
Sirisoma defeated Zuraish Hashim of Otters AC by four frames to two in the seven frame quarter final encounter of the 56th National Billiards Championship at the Billiards and Snooker Association headquarters yesterday.
This was one of the two matches that were played in the morning session. In the other encounter veteran S.M. Shaharwardi of Moors SC who is 75 years old beat club mate Abdul Sattar also by four frames to two to advance to the semi finals.
Sirisoma who took the first frame was given a wake up call by Hashim who took the second and third frames. But the defending came back and used his experience to the hilt to take the next three frames to wrap up the game.
Veteran Shaharwardi a former national billiards champion who won the title in 1974 and was runner up on seven occasions used his experience and though he conceded the first and third frames to his opponent and came back to his own.
The two evening session games saw M.J.A. Thasleem and S.H.M. Aslam both of Moors SC recording easy four frames to one win over Prasanna Pushpakumara of YMBA Colombo and S.M.M. Deen of Mawanella RC.
With the completion of the quarter finals the semi finals are scheduled to played today with defending champion K.H. Sirisoma meeting S.M. Shaharwardi at 11.00 a.m. and club mates of MSC M.J.A. Thasleem and S.H.M. Aslam battling in the other semi final due to be played at 3.00 p.m.
The two semi finals will be played over nine frames and the final is slotted to be played tomorrow from 2.00 p.m. onwards which will be over 11 frames..