Like a basket, your pelvic floor, holds and supports the contents of your pelvis - your bladder, uterus (womb) and the rectum. Like any other muscle, it benefits greatly from frequent exercise, says Gopi Kitnasamy, Chartered Physiotherapist at Durdans Hospital. When neglected, strain caused by pregnancy or obesity can weaken your pelvic floor muscles enough to cause you considerable discomfort, particularly in the form of urinary incontinence. Simple exercises, called Kegel's, can make a world of difference in such cases.
What is your pelvic floor and where is it?
The pelvic floor is a sheet of muscles that extend from your tail bone (coccyx) to your pubic bone at the front and between the two 'sit bones', forming a diamond shaped platform between your legs, says Mr. Kitnasamy. It provides the floor to your pelvis (the bottom part of your abdomen / tummy) and your bladder, uterus (womb) and rectum rest on it.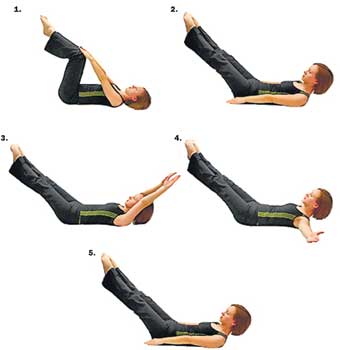 Courtesy activefitnessworld.com
Pelvic floor muscles are also responsible for controlling the movements of your urethra, anus and the vagina itself. Hence, they are key to controlling urination and bowel movements, as well as in the process of intercourse and birth.
Important for every woman
All women need to do pelvic floor exercises throughout their lives, emphasizes Mr. Kitnasamy, adding that it will only take a few minutes. The exercises are designed to strengthen your pelvic floor muscles so that they can better support the internal organs and also improve your bladder and bowel control. In addition, it helps to increase sexual awareness, both for yourself and your partner during sexual intercourse.
Causes of weak pelvic muscle
The pelvic floor muscles can be weakened by pregnancy and childbirth or following pelvic surgery (such as a hysterectomy - womb removal, bladder repair). Constipation, accompanied by a continual straining to empty your bowels has a similar effect. Repeated heavy lifting, a chronic persistent cough (such as chronic bronchitis and asthma) are causes, as are changes in hormone levels during menopause. Simply being overweight, or neglecting your general fitness is also enough.
Symptoms of pelvic floor weakness
You know you have a weak pelvic floor when you experience an aching or dragging sensation in your vagina. Other symptoms include:
A feeling of something coming down inside your vagina - may be due to a prolapse
Frequent urination accompanied by a sense of urgency.
Urinary incontinence - leaking when you cough, sneeze, laugh
Inability to control passing of wind
Reduced sexual response
Pelvic floor exercises: How to do them
To begin with, it's important to understand that these exercises involve two types of muscle fiberes in the pelvic floor, says Mr. Kitnasamy. The "fast" twitch muscles help to prevent leakage of urine with coughing, sneezing or laughing. The "slow" twitch fibres help to keep the sphincter or valve closed at the end of your urethra or the opening to the outside of your body.
Identifying the muscle: When urinating, try to stop the flow of urine. This small upward, lifting inward movement is the pelvic floor muscle. Another way is to try squeezing the anus/rectal area as if trying not to pass gas. Do not exercise these muscles by stopping and starting urination. Only do this to help identify the muscle.
To start with, do it in the sitting position seated in a chair/toilet seat. Once you master the art of doing it, you can do it anywhere and anytime.
Feet flat on the floor
Legs slightly apart
Lean slightly forward, with elbows on your thigh
There are two types of exercises - slow twitch and fast twitch. It is important that you do the slow twitch first and then the fast twitch each time you exercise your pelvic floor muscles.
To perform the slow twitch exercises
Close and draw up the muscles around back passage, as if you are trying to stop passing wind.
Now close and draw up the muscles around your vagina and urethra, as though you are trying to stop the flow of urine.
Hold for a count of five. Try not to hold your breath, breathe normally.
Then slowly relax and let go.
Repeat five times in total.
To perform the fast twitch exercises
Pull up the pelvic floor muscles as before.
Hold for one second and then relax.
Repeat 5-10 times or until your muscles feel tired.
These exercises are easy to do once you learn them properly. In fact, you can do these exercises anywhere and no one will know that you are doing them!
Don't:
Squeeze your buttocks together
Bring your knees together
Hold your breath
Lift your shoulders/ eyebrows or toes upwards
Exercise regularly
Practise five pelvic floor contractions five times a day. Make sure your contractions are strong every time. You can feel your pelvic floor contracting by putting one or two fingers into your vagina whilst having a bath or shower.
Every two weeks, test the strength of your pelvic floor by stopping the flow of urine mid-stream. This will give you some idea of your progress. Attempting this more than once a fortnight is not recommended however, as it can result in bladder problems.
Remember that it will take several weeks of regular exercise to regain the strength in your pelvic floor muscles. You need to do these exercises for the rest of your life. If you stop exercising, your problems will only return, cautions Mr. Kitnasamy.