'Osteoporosis' literally means 'porous bone'. This common bone disease is caused by insufficient bone tissue (also referred to as low bone mass). Gaps can appear in the bone structure and loss of bone strength leads to brittleness which increases the risk of fractures.
What causes osteoporosis?
Our bones grow during childhood and adolescence and are their strongest in the late 20s. As middle age approaches, the bones - while remaining strong - gradually begin to lose their density. This loss or thinning of the bones continues as we get older.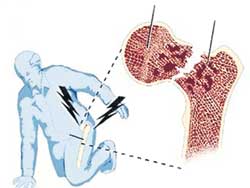 Hip fracture due to Osteoporosis
The process speeds up in women in the ten years after menopause when the ovaries stop producing the female sex hormone oestrogen -one of the substances that helps keep bones strong. Men suffer less from osteoporosis, because their bones are stronger in the first place and they do not go through menopause.
Who is at risk?
All of us are at risk of developing osteoporosis as we get older, which is why elderly people are more likely to break bones when they fall. But there are some people who are at more risk than others. These are some of the factors which can make a difference:
Oestrogen deficiency: Someone who has had early menopause (before the age of 45), or a hysterectomy where one or both ovaries have been removed, is at risk.
Lack of exercise: Exercise keeps the bones strong - both as they are developing and throughout adulthood. So anyone who does not exercise, or has an illness or disability which makes it difficult, will be more prone to losing calcium from bones, and so more likely to develop osteoporosis.
Poor diet: A diet which does not include enough calcium can encourage osteoporosis.
Heavy smoking: Tobacco lowers the oestrogen level in women and may cause early menopause.
Heavy drinking: A high alcohol intake reduces the ability of the body's cells to make bone.
Steroids (cortisone): If someone takes prednisolone over a long period of time, it can cause osteoporosis.
Family history: Osteoporosis runs in families, probably because there is some inherited factor which affects the development of bone.
Previous fractures: People who have had a low impact fracture are at greater risk of having another. Men and women who become shorter due to crush fractures of the bones in the spine are also more at risk.
What are the signs of osteoporosis?
It is difficult to know if you have osteoporosis because it is a disease which can remain painless for a long time and without obvious outward physical signs.
Osteoporosis may be first recognised following a fracture (commonly of the spine, wrist or hip). Fractures associated with osteoporosis most often occur following a minor trauma during everyday activities, e.g. when carrying heavy items or from a simple fall. While sharp pains in the spine during exercise suggest the possibility of a spinal fracture, very often they happen without pain.
Can you prevent osteoporosis?
There is a lot that can be done at different stages in your life to guard against this condition.
Healthy diet
Children and adults need a diet which contains the right amount of calcium. The best sources of this are milk, cheese, yoghurt and foods such as tinned sardines. Skimmed milk also contains more calcium per pint than full-fat milk. I recommend a daily intake of calcium of 1000 milligrams (mg) or 1500 mg if you are over 60. A pint of milk a day, together with a normal amount of other foods which contain calcium, will do the trick. We Sri Lankans are blessed with an abundance of green leafy vegetables which are a good source of calcium, with kathurumurunga leaves being the best source.
Children's exercise
Children should do sports or other forms of exercise to strengthen their bones.
Adult exercise
Adults too should be physically active. Choose 'weight - bearing' exercises - any activity which involves walking or running.
Avoid smoking and drinking
Avoid drinking too much alcohol. The recommended daily maximum for a woman is 2-3 units. For a man it is 3-4 units. A unit is a single measure of spirits, or half a pint of normal-strength beer or lager or a standard-size glass of 8% alcohol by volume wine.
How can osteoporosis be detected?
A scan to test the strength or density of the bones is now available at a few hospitals in Sri Lanka. This will indicate how much risk there is of the bones fracturing. You would need to lie on a couch, fully clothed for about 15 minutes while your bones are X-rayed. The dose of X-rays is tiny - about the same as spending a day out in the sun. The technique is called Dual Energy X-ray Absorptiometry and is known to medical professionals as DEXA.
What are the consequences of osteoporosis?
People with osteoporosis are more likely to break a bone even after a relatively minor injury. Fractures are most likely at the hip, spine or wrist. Hip and wrist fractures are usually sudden and the result of a fall.
| | |
| --- | --- |
| | |
| Normal bone architecture -strong and solid | Osteoporotic bone -Weak and brittle |
Spinal problems occur if - as the bones (vertebrae) in the spine become weak - they crush together. If several vertebrae are crushed, then the spine will start to curve. This may cause back pain and loss of height, and because there is less space under the ribs, some people may find difficulty breathing.
Can osteoporosis be treated?
Osteoporosis is often treated by prescription drugs that block the activity of the cells involved in breaking down bone. They help to increase bone mass and to strengthen the skeleton, reducing the risk of fractures. A recent study has shown that the risk of new spinal fractures can be reduced by 60 to 70% in patients with severe osteoporosis within the first year of treatment. An adequate intake of calcium and, if necessary, of vitamin D is also recommended.
What can I do if I am diagnosed with osteoporosis?
Take your treatment as directed
For best results, your treatment will have to be continued for several years.
Watch your diet
Your diet and more particularly your calcium intake is important in maintaining bone mass. You need about 1500 mg of calcium a day. Dairy products are especially rich in calcium. A calcium supplement may be taken.Talk to your rheumatologist.
Take advantage of the sun
Vitamin D is important because it increases the absorption of calcium by the intestine and encourages bone building. Get into the sunshine every day. If you cannot do this, your rheumatologist will want to be sure that you are getting enough vitamin D in your diet (fish liver oils, oily fish) and may suggest that you take a vitamin D supplement.
Take physical exercise daily Take care
Avoid sudden stresses on the spinal column which could cause fractures. The effort of lifting, especially when leaning forward, should be avoided.
Kneel down or squat to make your bed.
Keep your back straight by bending the knees when you pick something up.
Do not carry suitcases or bags which are too heavy.
Avoid sudden movements.
Reduce the risk of falling
As we get older, our risk of falling increases. You must identify and, fix where possible, things that are likely to cause a fall.
Have your sight checked.
Correct any problems with walking or balance (physiotherapy and using a walking stick may help).
Don't take drugs without your doctor's advice.
Limit your alcohol intake.
Take care in making sudden changes of position,
Clear areas you walk around in.
Take away or secure rugs on which you could slip.
Adjust lighting: increase lighting in areas you move about in and have the switches where you need them.
Adjust the height of furniture (bed, armchair, toilet seat) as necessary.
Stop smoking
Smoking increases your risk of osteoporosis.
It is never too late to fight it
Leading an active life and maintaining a diet with sufficient calcium is the best way to prevent osteoporosis. The sooner a patient with osteoporosis is treated with active therapy, the sooner their risk of fracture can be reduced.
(The writer is Consultant Rheumatologist at the Sri Jayewardenepura Hospital)