Painful last act for vanquished Clinton
WASHINGTON, Saturday (AFP) - Hillary Clinton today formally folds her historic quest to be America's first woman president, after a nominating campaign once seen as inevitable crumbled under Barack Obama's onslaught. Clinton's ordeal, in Washington's National Building Museum, will be closely watched for the tenor of her endorsement of the presumptive Democratic nominee, after her first post-primary effort last Tuesday struck some as ungracious.
The former first lady's rally will be the latest attempt to unite the Democratic Party after a divisive campaign, and follows a secret meeting with Obama on Thursday night, and speculation about her vice presidential prospects. Clinton's constituency of white, working class voters, women and Hispanics could play a crucial role in boosting Obama all the way to the White House, but is also seen by Republican John McCain as part of his own path to power.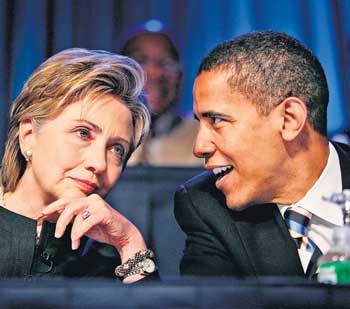 In this July 19, 2006, file photo Sen. Hillary Rodham Clinton, D-N.Y., speaks with Sen. Barack Obama, D-Ill., right, during the annual convention of the National Association for the Advancement of Colored People in Washington, prior to their race for the Democratic presidential nomination. After Obama secured the nomination Tuesday, June 3, 2008, he called Clinton in the evening and left a message. Meanwhile, Clinton's aides and surrogates have pitched her for the No. 2 spot, though she has not officially ended her campaign. AP
The New York Senator's campaign chairman Terry McAuliffe said her mission now was to rally the party to defeat McCain in November's general election and to close ranks behind Obama in his own historic White House bid."She will do anything, she has made that clear, she will do anything she can to help Barack Obama," he said, as Clinton held a party at her home in an upscale Washington neighborhood to console laid-off campaign staffers.
Clinton's speech at noon (1600 GMT) will be the final act in a near 17-month odyssey which has encompassed two winters, the snows of Iowa and the dry heat of Nevada, gritty towns of Pennsylvania and swank Hollywood fundraisers. The former first lady, 60, was once a prohibitive front-runner, leading national polls by huge margins last year, but her campaign was stunned by her loss in the leadoff Iowa caucuses on January 3.
She pulled off a glorious comeback in New Hampshire days later, but her front-runner strategy -- she ran virtually as an incumbent -- was buckled by Obama's soaring message of hope and change, and superb campaign organization. After she failed to knock Obama, 46, out in the Super Tuesday nationwide primary contests in February, the former first lady was always behind, despite clinging on with famous victories in states like Ohio and Pennsylvania.
On Friday, an exuberant Obama offered a cheeky prediction he would be president in 2016, as he tried to lend his winning streak to his home city of Chicago's Olympics bid. Obama joked he could put his house up for rent, to make a financial killing if Chicago wins the Summer Games.
"I have to let you know in 2016, I'll be wrapping up my second term as president," Obama said in a surprise appearance at a rally celebrating Chicago's selection as a finalist for the Olympics. Mystery still shrouded the talks between Obama and Clinton at the home of Democratic Senator Dianne Feinstein on Thursday night, after both had given their travelling press packs the slip.
"I had a chance to talk to Hillary for a little bit because she came early," Feinstein told Fox News. "Then Barack Obama came, and I seated them in comfortable chairs by the fireplace, then I went upstairs to work. "When they were finished, he called up, and I came down and said goodnight. That was it."Feinstein said later she had heard the pair laughing as the meeting broke up.
"I think the opportunity to sit down, just the two of them, have an hour together, was positive," the California senator pointed out.
The former first lady earlier had sought to quash suggestions that she had launched a new campaign -- to be picked as Obama's vice president, after he won their epic battle for the nomination on Tuesday. The campaigns said the talks were productive, but no further details have leaked out.