Showcasing HP products to Asian customers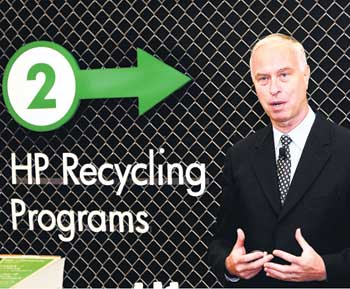 Jean-Claude Vanderstraeten at PWL's Environment Track
Singapore -- Hewlett-Packard (HP), market leaders for imaging and printing, announced breakthroughs in toner and ink technologies while launching its range of printing supplies solutions at the HP Print Watch Live, 2008 held in Singapore last week. At the conference organized by HP Asia Pacific, a large portfolio of new brands were introduced including its newly formulated HP ColorSphere Toner, HP ColorLok technology and new HP InkJet and LaserJet cartridges.
Major improvements on its product line include more than double the gloss and a greater choice of colours on the HP ColorSphere Toner which has never been seen in HP printers of its kind while the ColorLok technology on HP papers allow users to print better, bolder and sharper text while providing up to nine times faster drying time than before.
For the first time, customers with various needs have selected solutions to suit them through HP's new supplies solutions. High volume customers can save up to 47% of their cost by choosing a range of five new HP XL Inkjet Print Cartridges while cost-conscious customers have four new products under the Simple Black range of cartridges, officials said.
Commenting on the affordability of the products, Leong Han Kong, Vice-President for Supplies for HP Asia-Pacific and Japan, said that the value of an HP product should be measured by the quality of what one receives for the price a customer pays. "A customer may feel that HP products are too expensive or they may not be happy with the product. Often we find that with the many solutions we provide at HP it is important for customers to select the correct solution which will better suit their need," he said.
The event also highlighted HP's commitment toward the environment by revealing some of its projects and products designed specifically with reducing wastage and emissions in mind. HP's large scale recycling and refilling projects around 11 countries in the Asia-Pacific region was the main feature in the environmental package. Although still not available in Sri Lanka, HP hopes to spread the recycling trend into its entire customer base in the Asia-Pacific region by the end of 2010.
Many of the announcements made at the Print Watch were part of HP's Eco Solutions programme with simple innovations such as the Auto-on/Auto-off technology which allows the printer to enter into a deep sleep mode, which uses just one watt of power, after an idle period. A new addition to the eco solutions programme was the HP Eco Printing Assessment which helps customers gauge their energy consumption and carbon emissions while recommending ways to use less energy and paper. "HP is dedicated to maintaining its environmental leadership in the field especially when considering its products and educating its customers," Mr. Kong said.
HP now uses 70% to 100% recycled plastic to create new HP InkJet cartridges while close to 45% less packaging materials are used to make LaserJet cartridges saving up to 3.7 million pounds of packaging materials in the Asia-Pacific region alone.