Govt. must practice what it preaches - poll
On austerity measures like reducing fuel consumption
While most people agree that Sri Lankans have little protection against the surge in oil prices overseas and that inevitably fuel prices here will rise, the most demanding question is: why can't the government practice what it preaches?
Respondents in a survey carried out by The Sunday Times FT on the impact of rising fuel prices on companies were unanimous in the view that the government must cut its cost before asking the people to tighten their belts or reduce fuel and energy consumption.
Those polled were asked to respond to three questions: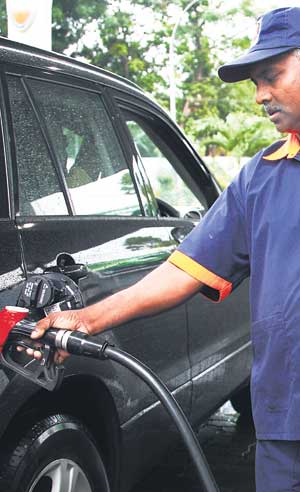 1) Fuel prices are rising sharply this year and according to some analysts, it is expected to hit US$150 later on this year. Is the cost of energy affecting your bottom line?
2) Are high interest rates also affecting companies/institutions?
3) Some hold the view that increasing inflation is not solely due to the rise in global fuel prices but also due to an internal factor like government spending. Is this correct?
Results of the survey are given on Page 1 of this section. Some of the comments received in the survey are given below:
Interest rates

To the question of whether high interest rates are affecting companies and institutions, the respondents said:
-- There is a direct impact on cost of product/service and operating costs.
-- Companies are laying off staff or freezing recruitment while some smaller firms are shutting down.
-- With the existing financial crunch we see most of the top companies taking 60 days to pay suppliers. This forces others to temporarily borrow funds to manage cash flows. This is at a high interest cost that cannot be recovered from clients.
-- Companies find it difficult to obtain funds as well as individuals find it more secure to save them at attractive interest rates than make an investment during these turbulent times.
-- Companies having funding requirements are affected whilst for cash cows like Distilleries it is a positive situation since they earn a good interest income.
-- Exporters fortunately have access to borrowings in foreign currency and are able to manage the situation as best they can, using a combination of foreign and local borrowings.
-- Working capital is funded by local banks and that hits our bottom line.

Inflation
On whether increasing inflation is not solely due to the rise in global fuel prices but also due to government spending, this is what some respondents said:
-- Yes … by borrowing money at commercial rates, war expenditure, corruption, 'political expenditure' by the government and overall economic mismanagement.
-- The war for sure, and also the inefficient planning/spending by the government on most of the projects like Mihin Air for example.
-- If it is not government spending and only external factors then other countries in the region too should have 25% plus inflation, which is not the case.
-- The rise in global fuel prices certainly does contribute to inflation. However, the impact of government spending in a number of different areas cannot be ignored.
-- All countries - developed and developing - have to cope with the rise in global fuel prices. But they don't have the inflationary levels or are even close to what we have.
-- What is most disgusting is the attitude of the government where they want the people to cut down while they carry on regardless wasting the people's hard earned money.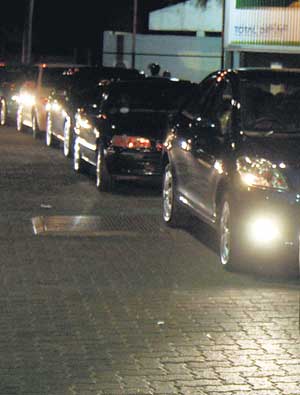 School days
One respondent commenting on the recent proposal to reduce the number of school days to four to beat the fuel crisis, said: "They are trying to victimize the children for their own incompetence. What should be taught in five days cannot be done in four. Show me any country in the world that has responded in this asinine manner to fuel crisis by victimising our children? This will be the end to our post independence achievements in education."
Meanwhile earlier this week, the cabinet rejected the proposal to reduce the number of school days.
Companies feel the heat of rising energy costs
In a more focused survey with companies from a cross section of major sectors which affect the public such as consumer goods, manufacturing and services and apparel, the consensus amongst them was that bottom lines will be affected by the rising energy costs and can only be alleviated through a meaningful policy for reduction by the government.
The survey results illustrate that companies are also of the view that other factors affecting business such as the increasing inflation which hit 26.6 percent in May 2008, is not solely due to global factors beyond and price increases that are beyond the control of the government. Rather, substantial government expenditure on non-infrastructure related issues and public sector expenses are also contributing factors. Companies also feel that slashing the import tax on fuel which is currently just above Rs.56 will not only bring down fuel prices but will alleviate the burden on bottom lines and the public at large.

Consumer goods - Unilever
Unilever, a manufacturer of leading brands in foods, home and personal care, said the continuing increase in fuel prices, energy costs and in particular the rising electricity costs are negatively impacting the company's manufacturing costs. The rising cost of fuel has an even greater and direct negative impact on the company's distribution costs. As an FMCG company distributing products to every nook and corner of the country, Unilever said it is a burden and there is no option but to share it with their customers and consumer, adding to the general inflationary pressures.
High interest rates are also a major concern for Unilever, particularly from a future investment standpoint. The company also said that inflation has many components and rising import costs of fuel, food and other commodities are major factors. However unprecedented and unabated government spending not on developmental infrastructure projects but on recurrent administrative expenditure is significant. If managed well, it could mitigate some of the factors influencing inflation which is beyond government control.
Unilever said it has a robust cost savings programme to manage profit and profitability but the gap is widening by the day. Whatever additional costs the company is unable to bridge through the cost savings programme will have to be passed down to consumers. This in turn may however have an impact on top line sales as consumers disposal incomes are contracting, according to Unilever. The company added that if there is a meaningful reduction in fuel costs resulting in overall energy costs coming down and no additional costs in the form of new taxes, it will help not just their bottom line but ease the burden to the general public.
Manufacturing & Services - Hayleys
Hayleys PLC, one of the country's leading multinational conglomerates, said energy is a major cost for all of its businesses including manufacturing of value added products for export, the plantation sector and those involved in providing the local market with goods and services. The increase in furnace oil prices is expected to cost the company's manufacturing businesses well over Rs.200 million a year and diesel and petrol price increases will add well over Rs.100 million to its costs. These quantifications cover only the impact of the increases in May 2008. The company said that if previous increases were factored in, the cost would be much higher.
The group is continuing to look at renewable sources of energy to mitigate the effect of these increases but said this effort is seriously challenged by the rapidity and magnitude of the continuing oil price increases and by the disincentive to investment caused by high interest rates and the absence of other incentives for this investment which is a 'vital national priority.'
Hayleys said interest rates are affecting its bottom line significantly. High inflation is raising costs drastically and there is no prospect to pass these cost increases which are specific to Hayleys or in export markets. Exchange rates have not moved to accommodate this impact. The company further stated that high interest rates also tend to discourage firms from re-investing and expanding capacity and will affect their bottom line growth and competitiveness. According to Hayleys, inflation is significantly locally induced due to high government spending on non-developmental activities and excesses in the public sector.
Cost increases will tend to impact adversely on its results and bottom line despite its continuing efforts to seek greater efficiency and productivity in their businesses. If the import tax on fuel is slashed, Hayleys said it will undoubtedly make a difference to their results and performance as fuel prices will fall.

Clothes - Odel
Odel, one of Sri Lanka's largest clothing retailers, is also feeling the impact of the fuel increases. Odel said the cost of energy is affecting its bottom line because it has a knock on effect on all other expenses including electricity. High interest rates are causing adverse effects because Odel's working capital is funded by local banks. Furthermore, Odel said the increase in oil prices is not the only reason for the rising inflation but that the funding of the war is a large contributor as well.
Services- Banking
Anil Amarasuriya, Managing Director Sampath Bank, said that the cost of energy is affecting Sampath's bottom line. "This is because the cost of services linked to fuel such as transport will increase," he noted, adding that the cost of deposits, slow growth in deposits and the number of non performing loans will increase. Mr. Amarasuriya also noted that internal factors also contribute towards inflation and that reducing the import tax on fuel will help.
Another banker, who declined to be named, said that the energy costs impact on their bottom line directly on transport while in electricity costs it is marginal and also indirectly because of the increase in other input costs. "This is also because of the impact on some borrowers and the increase in their production cost which in turn could lead to debt servicing problems," he said. He said that external factors are affecting the bottom line and that higher interest rates have increased the cost of funding and it cannot be fully passed on to borrowers.
"Also high interest rates over a long period lead to lower loan demand and poorer loan quality and higher non-performing which affects interest income. There is thus pressure on interest margins," he added. He said that much of the inflation is due to rise in global fuel prices and commodity prices. Internal factors also contribute but not as much as the external factors. He said that slashing the import tax on fuel will not necessarily make a difference to the results and performance since the government's budget deficit will then widen.
"There will be no pressure to reduce consumption and lowering fuel prices through tax cuts may not have a positive effect over the medium term although in the short term it will help," he noted.
Businesses asking for electronic data interchange to reduce fuel usage and improve security at the port
The garment industry has asked the government to liberalise the electronic commerce sector to allow electronic clearances of exports and imports. Meanwhile, other business sectors also calling for full implementation of the Electronic Data Interchange (EDI) system to be fast tracked, to cut down on fuel usage.
"We have asked the NCED (National Council for Economic Development) to liberalise the electronic commerce industry and to allow at least 2 operators to provide these clearance services in Sri Lanka," said the deputy secretary general of the Joint Apparel Association Forum, Rohan Masakorala.
Currently EDI facilities are a monopoly, provided through e-Services Lanka Ltd in which the government has a 42% stake. However, importers and exporters say that although e-Services was set up in 2002, nearly 6 years later, full EDI facilities are sill not available in Sri Lanka.
Businesses say full EDI facilities would drastically reduce the need to travel between government agencies and that this would reduce fuel consumption by businesses on a daily basis. "It applies to every container, every shipment and every exporter, every day. So it all adds up to a lot of travelling and time. If all this can done electronically the savings on fuel would be very large," said the Chairman of the Exporters Association of Sri Lanka (EASL), Deepal Chandrasekera.
The EASL members represent around 80% of Sri Lanka's total exports. "The EDI system will most certainly help to cut down on fuel consumption, if it is fully operational," said the head of the Ceylon Chamber of Commerce, Importers Section, Ranjan de Silva.
The garment sector says electronic import and export clearances will also improve security at the port and will increase government revenues by reducing scope for irregularities.
"There are so many benefits. The accuracy of government data, VAT refunds and government incomes are all linked to this. Also, it improves security at the port because there will be less people going to the port," said Mr Masakorala.
Importers and exporters have started using available EDI facilities. But the entire transaction process, from submitting documents to relevant agencies, to making payments, still cannot be done online. Businesses must still physically visit customs and other relevant government bodies to finalise their import export clearances and make payments.
e-Services says it has the software and the capabilities to provide a full service but is still waiting for relevant government agencies to build internal capacity. E-services says liberalising the sector will do no good, unless the relevant state agencies are able to handle their end of the clearance processes electronically.
"It takes two hands to clap. We can have even 100 service providers, but if the relevant government bodies are not ready at their end, full implementation is not possible," said CEO, e-services, Vinesh Athukorala.
The company says it has taken on the extra job of helping state institutions re-engineer and re-organise internally, to be able to provide full online clearances.
At this point, although Customs and the Sri Lanka Ports Authority are linked up with the e-services systems, they are not able to provide all aspects of the clearance procedures online.
For instance, the Ports Authority, a vital link in the electronic clearance process, is still not able to accept and process all the relevant documents like the shipping manifests, online. State banks are still not able to accept online payments although many private banks are already operating online payment gateways. Meanwhile, other clearance agencies like the Sri Lanka Standards Institute need to join the network.
Businesses say the government needs to make an urgent evaluation on providing full electronic import, export clearances to cut down on fuel consumption and to improve national security.
Business is a burden
A garments manufacturers says local businesses are facing the worse-ever crisis which is on top of high energy costs. He says there is a whole heap of taxes they pay to the central government and provincial administration which is in addition to the 'dirty (bribe) money' that has to be paid in the revenue chain to 'get things moving.'
Here are the duties and costs he has listed that a business has to bear: - Customs Duty; Cess; VAT, Social Responsibility Levy, Ports Authority Levy, provincial taxes like Turnover Tax, EPF, ETF, Gratuity, local authorities assessment taxes & service charges, electricity, water, freight, insurance, lease rent, security, salaries, bonus, loans, incentives, medical and transport.