New Malabe IT Park – twice the size of Colombo's WTC in terms of space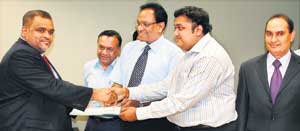 Clinching the agreement
A new US$ 80 million IT park for the government is being developed at Malabe by two Indian companies, Infinity Infotech Parks Ltd and PS Group Realty Ltd. The project envisages the development of 1.6 million square feet - more than twice the size of the entire World Trade Centre complex in Colombo with the first phase to be completed within four years, accounting for 500,000 square feet.
The consortium was selected by the Board of Investment (BOI) after a rigorous bidding process that also involved the Sri Lanka Institute of Information Technology (SLIIT) and Ernst & Young, India. This week BOI Chairman Dhammika Perera issued the Letter of Intent (LOI) to the developers, with an agreement to be signed within 45 days of issuing the LOI. Construction is due to begin early next year.
Speaking on this occasion, Managing Director/CEO of SLIIT, Lalith Gamage said the park will allow Sri Lanka to attract world class IT companies. "These two companies will be responsible for marketing the IT Park and attracting clients, using their extensive networks," he said.
Executive Director of Infinity Infotech Parks, Pulak Chamaria said the company was very confident about Colombo's emergence as an IT/KPO hub. "Sri Lanka has a highly literate and educated workforce, ideally suited to these industries," he said. Co-Chairman and Managing Director of the PS Group, Pradip Chopra said the booming IT/KPO industry was unable to find adequate human resources in India, "Indian IT companies are targeting China and Vietnam because of their ready availability of labour and office buildings."
He said the Malabe Park will help Sri Lanka attract large Indian and global companies. The 15-acre park, to be situated next to the SLIIT campus in Malabe, will provide direct employment for 20,000 and indirect employment for 80,000.