Don't respect authority, only leadership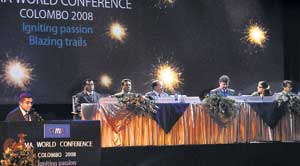 The opening session
Individuals do not matter, but leadership does, according to a presenter at the CIMA World conference 2008, which concluded last week. "People respond to how we treat them. We need to stop respecting authority-simply because someone is in authority does not make them a leader," Jehangir S. Pocha, Editor Businessworld, India's best selling business magazine, told The Sunday Times FT.
He noted the importance of exercising personal leadership. "Leadership is not only for the "other'. No matter what your position is in the company, think of yourself as a leader," he said, adding that to be a revolutionary leader in one's life is what the future is about.
He noted that there is no formula to respecting leadership. "It is important to create the mindset and get people to automatically tune into this. At times, it means taking initiatives, an autonomous one," he pointed out.
When asked about the leadership gap, which has blocked South Asian nations like Sri Lanka achieve their full potential, Mr Pocha noted, "The problem in South Asian has been one of culture, but the good news is that all cultures, become fatigued and need regeneration. There has been a problem of leadership in South Asia, because in many parts of South Asia, you still have a very feudal mindset." "We are in the early stages of examining the cultures, which Europe did during the Renaissance. This will be – it is a force of history," he added.
He said it is important to actively participate in some form of transformation. "Leadership is not easy. They do not provide easy answers. Leadership is like any other maneuvering skill like driving a car or using a tennis racquet," he noted.
He said it is important not to challenge, but create a space for oneself. "It is no different from crossing the street. You need to maneuver through policies, loopholes and mindsets," he added. Mr Pocha pointed out that Iran, a relatively closed, but rich nation had film makers putting out beautiful movies about the realities of Iran." This is the power of leadership."