Realising the importance of Asia Pacific region
Foreign Minister Rohitha Bogollagama's address to the Shangri La Dialogue in Singapore the other day raised some important issues, belated though they may be. This annual dialogue arranged by the London-based International Institute for Strategic Studies is more an occasion for those specifically involved in or concerned with security issues to discuss matters of regional and international security. While Bogollagama did that using the LTTE as the launching pad for his plea for greater Asia Pacific cooperation in tackling terrorism and terrorist-related questions in the light of growing cooperation between terrorist organisations and the transnational nature of modern terrorism, there is one particular matter that interests me. While Bogollagama's call to Asia Pacific nations to take greater cognisance of the changing face of terrorism including the operation of front organisations that help fund terrorist groups and the use of regional sea lanes to transport arms to conflict zones might cause increased awareness of the problem as a regional issue, we need to look at Sri Lanka's own diplomatic performance in this region.
The vital question is whether Sri Lanka has paid sufficient attention to the Asian Pacific region, whether we have tried to engage these countries in serious dialogue and whether our diplomatic effort has been commensurate with the importance we now attach to the region. If we expect cooperation and support from the region and the individual countries that constitute it, then Sri Lanka should take its diplomatic engagement with those countries with the seriousness that we now seem to give it in the context of terrorism. But sadly we seem to have treated some of these countries to the east of us as some would treat their backyards, a dumping ground for refuse, the unwanted and the discarded.If we were politically and diplomatically perceptive enough Sri Lanka would have understood the growing muscle, economic and political, of Asia Pacific countries and would have taken early steps to conduct relations with an eye to this burgeoning strength. I am not referring here to Japan and China with which we have had long standing relations that have grown over the years. While we concentrated our efforts in bilateral relations with countries such as Japan (JR Jayewardene's San Francisco speech having set the stage for that) and China (particularly since we were one of the first countries to diplomatically recognise China followed by the rubber-rice pact), we appear to have paid little attention to the emerging nations of Southeast Asia.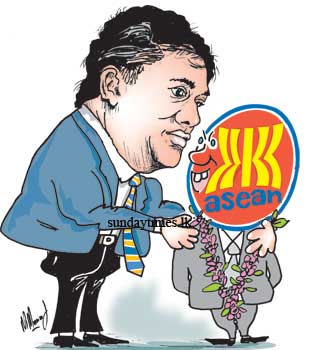 Way back in 1967 we were invited to join the then emerging association called ASEAN. But Colombo was reticent to do so suspecting it was not all that it seemed to be-an economic group. I remember speaking to the then prime minister Dudley Senanayake about it. The then Malaysian Prime Minister Tunku Abdul Rahman made the overture to Dudley Senanayake during his Malaysian visit. But Senanayake hesitated because he felt it had political connotations- an Asian grouping with pro-American leanings and a counter to Chinese communism. That was a missed opportunity and in retrospect Sri Lanka might have been a more economically developed place had we joined despite the fears of Singapore at the time that Ceylon had too many active leftist political parties even in government.
Ranasinghe Premadasa later tried to bring Sri Lanka into ASEAN but that overture was summarily rejected. I think turning our back on Southeast Asia originally led to general diplomatic neglect. One aspect of that neglect and the downgrading of the region as a whole was the quality of our diplomatic representation in some of those countries We seem to have lacked the prescience to realise the growing economic and political power of the countries of ASEAN and foresee its expansion to include the whole of Southeast Asia as the ideological complexion of the region changed to more pastel shades, and accommodation of differing political viewpoints became possible.
Let me take one country as an example of the kind of neglect and lack of sensitivity I referred to. For many, many years we have sent retired politicians, policemen, political henchmen and women as heads of mission to Malaysia. I remember that at the beginning of the 1970s, our high commissioner there was a former Speaker of parliament. He might have been a good, affable man personally. But would he have been able to see the emerging Malaysia and act accordingly to cultivate our relations. At one stage the UNP posted a TULF politician who crossed over, to Malaysia and kept him there, if I remember correctly, for eight years. I remember senior Malaysian diplomats- one of them had been high commissioner in Colombo- telling on various occasions they felt Sri Lanka was treating them unfairly. While Malaysia posted senior career diplomats to Colombo, we seemed to be sending them persons who were owed, for one reason or other, political favours. Had they been efficient, high profile and of significance it might have mitigated the circumstances somewhat. But these were lightweights with little political or diplomatic savvy. Such lackadaisical treatment is registered and noted in various capitals. One might say that other countries in the region, Thailand, Vietnam, Indonesia, the Philippines have also often been treated with scant respect by posting as senior diplomats those who see such appointments as vacations rather than vocations.
As a result the kind of interaction that is necessary to build a relationship that would be mutually beneficial or useful to us is sacrificed for a three to four year holiday at public expense. One of the most neglected areas of diplomatic interaction is the academic institutions and think tanks in various countries. While we possibly speak to and interact with those in the west- the US and Europe- we ignore those in Asia for instance. Quite often governments take a cue from the work done by think- tanks and specialised departments of universities on policy matters and policy options. Equally government policy thinking is often tested for reactions from such institutions. They act as a sounding board because expertise on various subjects is available there.
Do our diplomats in Asian capitals- Southeast Asia in particular- spend any time talking with academics and experts in such institutions that are often the crucibles of policy initiatives? This is also true of the media. It is only when there is some adverse report or we need to get some publicity that we approach the media. What is needed is a constant dialogue with and briefings of the media, to create an atmosphere conducive for a productive relationship.
For over 15 years now I have been stressing the importance of strengthening our relations with Southeast Asia. This became particularly clear to me while working in Hong Kong where there was a substantial diplomatic presence and diplomats there would speak about the relations with Sri Lanka and what they see is missing. They were senior diplomats. As far back as 1994 I mentioned this to the then Foreign Minster Lakshman Kadirgamar over lunch in Hong Kong. Even in Hong Kong there was the kind of LTTE activity that Minister Bogollagama has mentioned in his speech- arms buying, human smuggling, falsifying travel documents and forging visas. Such activity is obviously still going on in some of the Southeast Asian countries sometimes unknown to the authorities, sometimes with the connivance of officials or security personnel.
If Minister Bogollagama wants to be taken seriously by the nations of the region he addressed, then the Sri Lanka government has to convey the urgency and its commitment by acting in a manner that establishes this. Articulating the problems and the need for cooperation in several fronts will not just do. Words need to be matched with deeds at the diplomatic level. Those who have been posted to some of these capitals might well be nice people individually. The question is whether these individuals are up to the task that Foreign Minister Bogollagama has raised by calling for closer cooperation to deal with transnational terrorism. Passengers in diplomatic missions are not going to achieve this. There needs to be fresh thinking on our relationship with ASEAN as a whole and its members individually.
Sea lanes in the Southeast Asia region as well as territory there are being used to interdict arms to Sri Lanka, there is little doubt about it. Sri Lanka is calling for cooperation to curb it, if not stop it. Cooperation could hardly be expected if we don't take our relations with those countries with the seriousness they deserve and expect.