Obama's Israeli connection
NEW YORK - It's an axiom in American politics that if you publicly criticize Israel or openly support the Palestinians, you are politically doomed either way. And this is more so in a presidential election year, where all candidates aspire to be more pro-Israeli than all of the inhabitants of Israel put together.
Every US politician running for office has only one agenda cast in boulders: the survival of the state of Israel, irrespective of whether Israel is right or wrong, mostly wrong. All other foreign policy issues -- ranging from Cuba to Sudan -- are way down the list. Unless, they directly or indirectly "threaten" the state of Israel.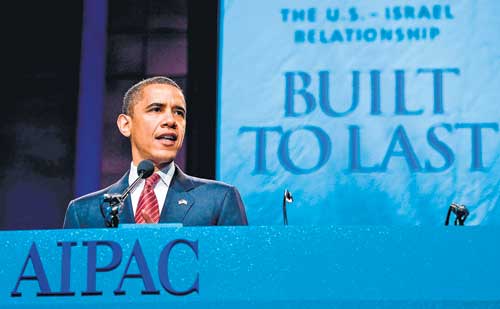 US Democratic presumptive presidential nominee Illinois Senator Barack Obama addresses the policy conference of the American Israel Public Affairs Committee (AIPAC) on June 4 at the Washington Convention Center in Washington, DC. AFP
So, it was not surprising that Barack Obama, the presumptive Democratic candidate for the November US presidential elections, vociferously proclaiming he was a more trusted ally of Israel than his rival, Republican candidate John McCain.
In his long address last week to the American Israel Public Affairs Committee (AIPAC), one of the most powerful pro-Israeli lobbying groups in the country, Obama promised Israel $30 billion in military aid, almost all of them in outright grants as always, and even justified the recent Israeli attack on a supposedly Syrian nuclear plant (an attack in total violation of a country's national sovereignty).
And in his eagerness to woo Jewish votes, Obama crossed more than one line in the Middle Eastern sand. As Washington Post columnist Dana Milbank put it: "Obama even outdid President Bush in his pro-Israeli sentiments". On the very day that Obama vowed to protect Jerusalem as Israel's capital -- drawing furious denunciations from Palestinians -- Bush announced he was suspending a proposed move to shift the US embassy from Tel Aviv to Jerusalem, Milbank said.
Undoubtedly, an irony of ironies, considering the fact that only last month Bush was considered a saviour of Israel during a highly-publicised visit to Tel Aviv.
And as Milbank rightly said: Obama "almost sounded as if he were Jewish." "I grew up without a sense of roots," Obama told AIPAC, "I understood the Zionist idea, that there is always a homeland at the centre of OUR story"-- the story of the Jews and also of the African-Americans in the US, on whom the Plymouth Rock landed, according to Malcolm X.
Even Mahmoud Abbas, president of the US-backed Palestinian authority, was outraged enough to protest Obama's promise to hand over an undivided Jerusalem to the Israelis. As Abbas pointed out: "The whole world knows that East Jerusalem, holy Jerusalem, was occupied (by the Israelis) in 1967."
"And we will not accept a Palestinian state without having Jerusalem as the capital," he added. As he politically transformed himself into an Israeli hardliner, Obama assailed Iran, vowed to prevent Iran for developing nuclear weapons (which it has consistently denied) and pledge to maintain Israel's "qualitative military edge" against all rivals in the neighbourhood.
"I will do everything in my power to prevent Iran from obtaining a nuclear weapon," he pledged, but for obvious reasons, would not make any reference to the stockpile of Israeli nuclear weapons, the only country in the Middle East with nukes.
Obama, who last month was criticized for not wearing an American flag as a lapel pin, apparently wore a joint US-Israeli pin, along with the Star of David. Not surprisingly, the AIPAC audience of some 7,000 gave him 13 standing ovations (no one pointed out it was an unlucky number), twice more than what Hillary Clinton received, when she spoke afterwards.
In US politics and in Capitol Hill, Israel is the ultimate embodiment of a sacred cow, venerated and untouchable. The political support for Israel is so intensely strong that Pat Buchanan, a vitriolic rightwing newspaper columnist and a one-time presidential hopeful, rightly described the US Congress as "Israeli-occupied territory".
The Israeli lobby in the US, however, never forgave him for his anti-Israeli views -- and his aspirations to become president of the United States were doomed long before they could take-off. The US commitment to Israel dates back to May 1948, to President Harry Truman's recognition of the newly created state. Currently, Israel is the largest single beneficiary of US aid amounting to an average of over $3.1 billion annually, of which $1.9 billion is in military aid and $1.2 billion in economic aid. During the last half century, total US aid to Israel has amounted to a staggering $81.3 billion (and counting).
Virtually all of the American equipment in the Israeli military inventory have been purchased out of US funds, largely outright grants that don't have to paid back. Obama's only concession to the Palestinians was his promise of a two-state solution: Israel and Palestine living side by side. Obama's political supporters can only hope that if and when he gets to the White House, he would be more even-handed on the Israeli-Palestinian issue and not be held hostage by the Israelis -- as have all American presidents.