Space girl
In the second in our series on the architects shortlisted for the Geoffrey Bawa award, Tahnee Hopman meets Shyamika Silva
The entrance to Nalin Indrasena's house is a narrow dark corridor, the only light of which comes from square niches in the wall, designed to hold the owner's set of sculptures.
Thus stepping into the main section of the house comes as something of a surprise; it is large and open. In fact, this was the idea behind the contrast between the entrance and the house. "I liked the aura of mystery when walking along the narrow dimly lit passageway into a completely contrasting space," says the architect Shyamika Silva.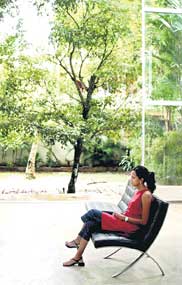 Shyamika sits in the foreground of one of the tall glass doors of Nalin Indrasena's house. Pic by M.A. Pushpa Kumara
Her love for architecture began at a very early age. At age eleven, upon completion of a project on buildings, her teacher had suggested to her that she consider architecture as a career. "I didn't even know what an architect was, at the time," she reminisced. "So I went home that day and asked my parents, and when they explained, the idea really appealed to me."
Travelling extensively was a contributing factor to Shyamika's interest in architecture."The experience of going places, meeting different people with different ideas, and then working with those ideas is one that was really special to me," she says. She joined the Colombo School of Architecture after leaving school and having completed a Masters in Urban Design in Australia, returned to Sri Lanka to establish her own firm- SW Plus, along with her colleague Christine Wallbeoff in 2000.
Since then, she has undertaken a series of projects, among them the Nalin Indrasena house in Nawala which has earned a nomination for the first ever Geoffrey Bawa Trust Award for Excellence in Architecture, for which the award ceremony will be held in July.
"I was both surprised and happy to hear that the house had been nominated for the award," she recalled. "It was one of the most challenging- though rewarding projects I had ever completed." One of the main challenges lay in the fact that the structure of the house is at double height, and part of the design was a pair of tall glass doors. It had been quite a daunting task to build those doors.
"The whole point of the sliding glass doors was that I wanted the sitting area to feel like it was not specifically an indoor area, but part of the garden outside," explained Shyamika. And this is exactly how it feels. Set on 8.8 perches of land, the house itself occupies only five perches, but feels considerably larger. The sitting area being so close to the restful garden gives the whole house an atmosphere of tranquility.
In accordance with Shyamika's signature style, from the design to the décor, everything is minimalist. "This is because I have always loved simplicity in design. I hate clutter of any sort and I like people to be able to feel the space they live in," she says.
This, for Shyamika is the point of being an architect. "It's all about the feeling you get about the space you have to work with. It's about instinctively knowing what is best to be done. As an architect, you either have that instinct or you don't- it's something you're born with."