A brush with nature
To commemorate World Environment Day on June 5, W.A. Ariyasena, (Senior Lecturer, Institute of Aesthetic Studies) along with his students, Sugandhi and Ronela Edirisinghe, Purnima Abeyratne and Andrea Brito Babapulle will display their paintings at the Lionel Wendt Art Gallery from June 6 to 8.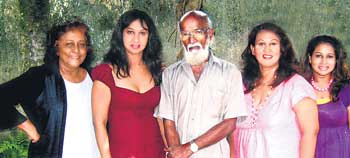 W.A. Ariyasena with his students, from left, Andrea Brito Babapulle, Purnima Abeyratne, Suganthi and Ronela Edirisinghe
The collection of landscapes, seascapes and wild life paintings using mediums such as oils, acrylic, water colours and pen and ink convey a message on how you can protect and at the same time enjoy the environment. W.A.Ariyasena, who barely shows his age though born in 1930, has guided many renowned artists. In 2006, he was awarded a lifetime achievement award for his continued contribution in both education and expression via paint.
Sugandhi will be exhibiting her series of paintings called "In an Artist's Garden". The paintings represent her view of the world and nature, capturing her emotions and thoughts on canvas in an abstract manner. Sugandhi's paintings speak of how nature can positively affect our emotions, health and outlook on life. Ronela Edirisinghe, an interior design student of La Salle, Singapore will display a series of paper craft and photographs of the environment around. In her opinion, creativity is a unique expression of one's ability.
Purnima Abeyratne, the well known "Inspirations" designer will also be exhibiting a few landscapes and seascapes. Purnima who finds beauty in the sea and the natural world loves working with acrylics that have the contrast and vibrancy that she prefers and tends to paint dusk and dawn settings, with rays of misty atmospheric light.
Andrea is an Aquarian therefore water is her focus. She captures the sand and things of sand, water and the sea. From turbulent gusty mornings on the beach, to tranquil night seascapes and waterfronts, she will display a few of her paintings to match the theme of this exhibition.