Put the country on war-footing: JHU
The JHU yesterday urged President Mahinda Rajapaksa to put the country on a war-footing immediately and cancel all ceremonies.
"The country should be put on a war footing for the rest of the year. All festivities should be cancelled and instead the armed forces should be given all the strength and encouragement during this crucial stage of the battle against terrorism in the Wanni," the party's General Secretary Ven. Omalpe Sobitha Thera said at the JHUs fifth annual convention.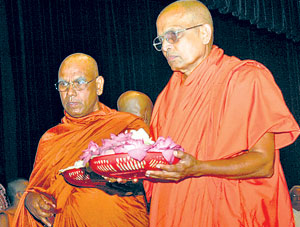 JHU Leader Ven. Ellawala Medhananda Thera leads religious observances to mark the fifth annual convention of the Party at the National Youth Services Centre at Maharagama yesterday. Pic by Saman Kariyawasam
The Thera also said the people should be rallied to defeat local and foreign enemies of the nation. JHU Political Advisor and Minister of Environment Champika Ranawaka said the party had a duty to support the troops for their final push for victory in the north.
"All of us should put our strength behind this decisive battle. We expect that the north too will be liberated by next year," he said. The minister said since the liberation of the east Buddhists have been able to visit places of worship without fear nor requiring anyone's permission. He said this kind of freedom will dawn in the north soon.
"We will soon be able to worship at Nagadeepa too," he said.Meanwhile JHU party leader Ven. Ellawala Medhananda Thera said that the Buddhist people's heritage in the eastern province should be protected no matter who the Chief Minister was.
"It does not matter whether it is Pillayan or whether it's a Muslim. The Sinhala people's heritage in the east must be protected," he said.
The Thera also charged that certain forces were inciting Muslim separatism in the East. Comparing the menace of alcohol and drug abuse to a form of terrorism as deadly as the LTTE Party Organiser Ven. Athuraliye Rathana Thera said a programme will be initiated islandwide through a thousand Buddhist temples to fight this menace this year.