Britain moves to deport Karuna
Britain has made its first concrete steps to deport the breakaway LTTE 'eastern commander' Vinayagamoorthy Muralitharan, better known as 'Colonel Karuna' who arrived in London last September on a Sri Lankan diplomatic passport.
The British authorities have sent deportation papers to the Sri Lanka High Commission in London asking for a travel document to expedite his deportation, highly placed sources told The Sunday Times.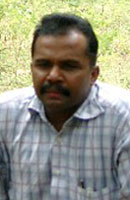 Karuna
The Sri Lanka High Commission, however, denied any knowledge of the move by British authorities urging a travel document for Karuna who was serving a nine month prison sentence which was prematurely ended early last month when he was moved to an immigration detention centre.
"I don't know. I have not heard anything," a High Commission diplomatic officer said. But The Sunday Times is aware that the British authorities, wanting to wash their hands off Karuna who has proved to be a serious embarrassment to Britain because it had issued the visa for Karuna to come to London on the basis of a Third Party Note (TNP) purportedly issued by the Foreign Ministry in Colombo that accompanied the Sri Lankan diplomatic passport.
Though the Sri Lankan authorities have denied any involvement in facilitating Karuna's departure to London, British authorities are convinced that the diplomatic passport on which Karuna travelled is genuine, a fact confirmed to me by British sources.
Karuna, who is now held in a detention centre believed to be in Harmondsworth, will be put on a SriLankan Airlines flight - the only direct flight to Colombo and also the national carrier - as soon as the paper work is completed.