Four deaths as floods disrupt life in the south
Swelling rivers pose threat to Ratnapura residents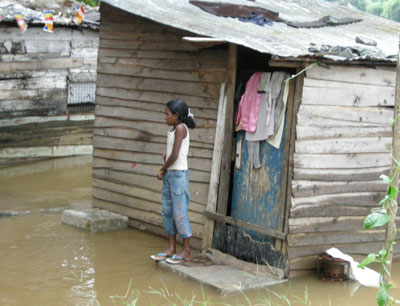 A child stands outside her flood-hit house in Kelaniya
Four deaths as a result of floods have been reported from the Galle, Matara, Kalutara and Kegalle districts. One of the casualties is a 14-year-old resident of Matara. According to the Disaster Management Centre (DMC), flooding following heavy showers have forced people to leave their homes and inundated roads in these districts, as well as in the Ratnapura area.
The DMC reported that all the main roads in the Neluwa Divisional Secretariat in Galle district are flooded. Boats are being used to ferry food and other supplies to displaced persons by various relief organisations, including the Galle district disaster management unit and the divisional secretariat.
In Galle district, one person was killed and a Buddhist monk injured when a Bo tree fell on a section of the Batuwangala Rajamaha Vihara. Meanwhile, main roads in the Tawalama divisional secretariat area have been flooded as a result of an overflowing Gin Ganga.In Kegalle district, several areas in the Dehiowita divisional secretariat have been flooded, as well as the Avissawella-Ruvanwella main road.
In Kalutara district, the opening of the sluice gates of the Kukuleganga reservoir has caused flooding in the Bulathsinhala and Badureliya areas. The DMC is still assessing the number of persons displaced as a result of heavy rains and flooding. According to the Meteorological Department, the heavy rains are typical of pre-monsoonal weather conditions.
"We expect the southwest monsoon to set in sometime this week, and some atmospheric disturbances usually occur ahead of the monsoon," said P. D. Ananda Perera, an official at the Met Department. "Once the monsoon sets in, you can expect heavy showers throughout the day, instead of intermittent rains."
Warning issued
Residents living in the vicinity of the Kalu Ganga have been advised to move out of the area temporarily, in case the river overflows. The warning comes from the Ratnapura Disaster Management Centre co-ordinating office. On Saturday, several low-lying areas, such as Hangamuwa, Dimiyawa and Alapatha, were flooded.
Ratnapura District Secretary Malini Premaratne added that areas in the Kalawana divisional secretariat, including the Kalawana-Madagama road and many other roads, have been flooded as a result of the Koswanna Ganga overflowing.
The Ratnapura Meteorological Office has recorded 105mm of rain in Ratnapura. Meanwhile, the water level of the Kalu Ganga has risen by 15 feet. The Irrigation Department has warned that if the river's water level exceeded 17 feet, severe floods could occur in Ratnapura.