Pakistani minister promotes brain gain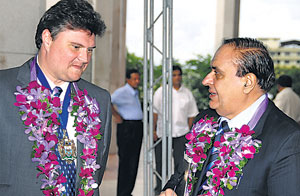 Gordon Grant (L) and keynote speaker Prof. Dr. Atta-ur-Rahman at the CIMA conference
The first CIMA World Conference themed 'igniting passion and blazing trails' kicked off Thursday with some powerful and enlightening speeches by eminent leaders both local and international. Keynote speaker Prof. Dr. Atta-ur-Rahman, Pakistani Minister and Chairman, Higher Education Commission, in an inspiring presentation said that education leads to tolerant and peaceful societies
"We need to covert brain drain into brain gain," he said, adding that a focus on education is crucial for national development. He said that quality human resources with the vision and leadership qualities to transform nations into societies in which innovation leads to the development of knowledge economies.
CIMA Sri Lanka Division President Aruna Fernando said that the CIMA World Conference will give a chance to showcase Sri Lanka as a centre for international conferences and will support the potential and skills within the CIMA fraternity while successfully executing a world-class event.
Speaking at the conference inauguration on Wednesday evening, he captured the context of the conference and reflected on how the four pillars of the conference, Peace building, Innovation, Global branding and Leadership, affect not only the global business market but also contribute to the core of modern life.
Gordon Grant, CIMA's Global President, said that when it comes to national peace, CIMA is increasingly working to help achieve economic stability through the promotion of financial integrity in both the public and private sectors. "This is an important strand in the development of a sustainable economic infrastructure, which in turn contributes to national, and increasingly, international stability," he said.
CIMA strives tirelessly to continue this work to the best of its ability and we welcome representatives from the international community who are endeavouring wholeheartedly to be committed global citizens," he said. The 4-day conference saw world-class speakers, eminent panellists and other distinguished guests.