New wheat flour to flood the local market from tomorrow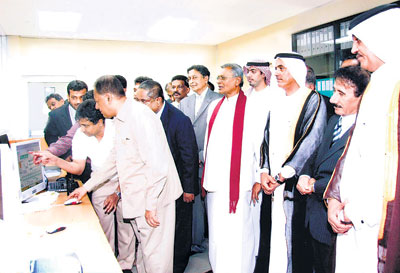 Investment Promotion Minister Dr. Sarath Amunugama at the launch.
A new wheat flour product, Seven star brand produced by Serendib Flour Mills (Pvt) Ltd, will be available in the local market from tomorrow with prices similar to Prima but fortified with folic acid and iron. This will end the flour manufacturing and marketing monopoly currently enjoyed by Prima. Essa Al Ghurair, Chairman of Al Ghurair Foods, Dubai, Serendib's parent company, told The Sunday Times FT that his company has 30 ships at present and another 40 will be added to the fleet shortly.
He said they don't envisage any problem in transporting large stocks of wheat grain to Sri Lanka from the US, Argentina, Australia and several other countries. There would be no shortages despite high prices and supply restrictions in today's market, he said. The company was also familiar with the Sri Lankan market having shipped flour to the island previously in 1986 and would supply different types of flour to suit the Sri Lankan palette.
Chairman of Serendib Flour Mills, Mahendra Amarasuriya told a news conference recently that the company based in Wellampitiya would be importing grain via the Colombo Port for processing.
This would give a price advantage for the consumers as it would save on transport charges. He noted that the plant will have an initial milling capacity of 1000 metric tonnes per day with a provision to increase production to 2000 metric tonnes per day. He added that the price of Seven star wheat flour will be very competitive.
Marketing analysts pointed out that a second player in the market would create better competition and help to give a better deal to the consumers.
The company plans to capture at least 33 percent share in the local wheat flour market breaking the monopoly control enjoyed by Prima. The price of wheat has more than doubled since the beginning of this year, as adverse weather reduced output in the major exporting countries of Australia, Argentina, Canada and the US. There is a high demand for wheat mainly due to demand from the bio fuel industry.
The supply will remain fixed until new crops are harvested in US and Europe in July and August 2008. The joint venture involves the Al Ghurair Group of Companies of Dubai, which has invested US$56 million (Rs. 6 billion) in the Sri Lankan company. The company will be providing their assistance for flour milling, ocean transport, commodity trading, logistics and local marketing in Sri Lanka. Sri Lanka will be able to save valuable foreign exchange from importing wheat for milling flour locally rather than importing flour for consumption.
The Serendib Flour Mill has an initial milling capacity of 300,000 tonnes and it would help save US$6 million to US$9 million in valuable foreign exchange annually. Chief Executive Officer of Serendib Flour Mills Sathak Abdul Kadar said that they hoped to export both bran and flour if there are excess stocks. Al Ghurair currently exports flour to Sri Lanka, Bangladesh, Male, Indonesia and Africa, an opportunity available to Serendib Flour Mill in the future if more production capacity is installed.