JKCS celebrates 10 years in Aviation IT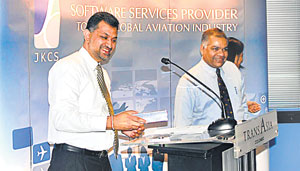 Picture shows Dhananjaya Chandrasekera – CEO of JKCS (left) and Romesh David – Head of IT Group of John Keells at the celebrations.
John Keells Computer Services (JKCS), a renowned aviation software company, this week celebrated 10 years of incorporation with a commemorative event themed "The Journey of a Decade".
In 1998, the John Keells Group - Sri Lanka's largest listed conglomerate - incorporated its software subsidiary JKCS in the hope of operating an IT support centre for a British shipping concern. From there, JKCS quickly secured more business in IT outsourcing with the use of a small team of talented software engineers and consultants.
At the time software off-shoring was still in a nascent stage. It took drive, passion and grueling hours to make the young company an outsourcing success. JKCS entered the big league by signing on Emirates Airlines, a statement from the company said this week. The airline giant contracted JKCS consultants to work at its IT division (Mercator) in Dubai and offshored some of its key projects to JKCS' advanced software development centre in Colombo.
It included the Emirates customer loyalty programs – Skywards and CRIS. JKCS quickly expanded in scale and scope to meet the needs of its growing business. Airlines like SAS, Air Arabia and Qatar Airways now figure in the customer list of JKCS. Its product suite has grown to include core airline systems such as booking engines, departure control systems and revenue management solutions as well as innovative technologies like on-board mobile devices and Web 2.0 supporting portals.
JKCS now has a multinational work force and an international presence via subsidiaries in the UK and UAE and operations which span Scandinavia to Singapore.