Inflation, tariff cuts bring Dialog profitability down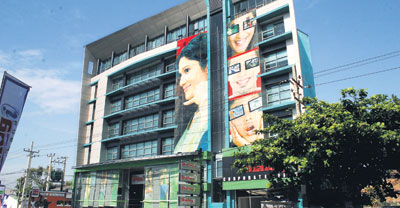 Dialog Tv's new headquarters
Dialog Telekom Plc saw its core mobile business profitability down by 47 percent to Rs.1.36 billion in the first 2008-09 quarter from the Rs.2.56 billion in 2007's first quarter, on the back of inflationary pressures, a tariff revision last December and high operational costs, analysts said.
"The company is seeing a core business profitability slowdown and this is the biggest challenge that they face right now," an industry analyst pointed out. The company's direct costs have increased by 49 percent to Rs.3.8 million this quarter as a result of the high inflationary environment which has continued and higher depreciation expenses associated with a larger asset base. Dialog's direct cost base constitutes 30 percent for net work costs, 30 percent for telecom equipment depreciation, nine percent for International Telecommunication Operators Levy, 11 percent on International origination costs, seven percent for roaming costs and three percent for lease circuit rental costs.
Dialog at an investor forum to stockbrokers earlier this week said that was one of several initiatives carried out during 2007 aimed at expanding the mobile market through affordability enhancement in contra-direction to macro inflation was the tariff amendment. But stock market analysts said that tariffs could further reduce given fifth operator Airtel's entry by the fourth quarter this year, and noted that Dialog's leadership has not contributed much to its bottomline with the cut-throat competition from the other competitors.
"Whilst Mobitel is gaining market share from other operators Dialog has thus far withstood the competitive forces (whilst enjoying over 43 percent total telecom market share and around 55 percent of mobile subscriber share) and is gearing to meet more stiff competition with the expected commercial launch of Airtel in fourth quarter of this year," an Asia Securities report said. The company further said that while Dialog recorded a substantial growth in airtime usage in response to affordability enhancement, elasticity levels achieved, have been inadequate to deliver a recovery of revenue growth trajectories during the first quarter post tariff reduction.
Despite Dialog's sustained market leadership with growth in subscribers up by 35 percent in the first quarter, the analysts are also saying that this coveted position in the mobile telephony market is not making an impact on their bottomline as much as expected. "The company's benefits of leadership are missing because there are no weak players in this market," one analyst pointed out. He added that Dialog is likely to follow a strategy of getting people to use their mobiles more to increase volumes.
"But this is not sufficient to fully compensate for increases in the company's operational costs," he noted. Dialog said that Sri Lanka's mobile telephony penetration level reached an estimated 40 percent at the end of the first quarter substantially ahead of neighbouring countries in tandem with tariff levels in the market being amongst the most affordable in the region.
The company's revenue for this quarter increased by eight percent up Rs.8.2 billion from 2007 first quarter's Rs.7.6 billion backed mainly by subscriber augmentation in the core mobile business (about 95,000 additions per month whilst continuing to hold around 55 percent mobile market share) and supported by rising subsidiary contribution which has accounted for over nine percent of consolidated revenue.
Dialog Broad Band Networks (Pvt) Ltd (DBN) has recorded strong top line revenue growth of 158 percent to Rs.537 million in the first quarter of this year. The increase in revenue was driven by expansion of the CDMA subscriber base which added 44,000 subscribers during this quarter on the back of the price penetration strategy adopted by DBN. "However, the delay in the launch of CDMA services (which has associated opportunity costs) coupled with higher administration and selling expenses in line with capacity building have constrained earnings," a stock market analyst said.
He said that consequently DBN has recorded a net loss of Rs.126.5 million for the said quarter which has reduced 43 percent quarter on quarter. The company's satellite television division (DTV) has recorded a net loss of Rs.113.6 million in 2008 first quarter on account of fixed content costs despite the subscriber base recording robust growth of nearly 300 percent year on year to 77,000 subscribers. Stock market analysts said that DTV needs to achieve a base of 400,000 subscribers to break even. "During the last 12 months, the company had only 58,000 subscribers. This will be a real challenge," they added.
Chief Executive Officer Dialog Satellite TV, Nushad Perera, told reporters on Thursday that the company has invested over US$150million since it took control of CBNSat in 2006. He said the subscriber base has been increased to 97,700.