Take the plunge
An IT consultant with a passion for diving, Dharshana Jayawardene's website divesrilanka.com documents the island's underwater wealth.
The strong, healthy tan gives him away. Consultant Dharshana Jayawardena may spend his weekdays at a desk with a laptop, but it is obvious he also finds time for the outdoors and gets a regular dose of the sun and surf.
Dharshana is the man behind www.divesrilanka.com, one of Sri Lanka's most comprehensive websites dedicated to the subject of deep-sea diving. For the past five years, he has been drawing attention to the island's premier dive spots with a wealth of accessible, first-hand information supported by a treasure trove of photographs.
Considering his dedication to diving, it is hard to believe Dharshana did not know how to swim when he went on his first dive. He was visiting friends in Bermuda, in the North Atlantic Ocean, when he decided to attempt a "try dive" – a brief, 10-metre ocean dive done under the supervision of experienced instructors. Dharshana recalls being almost frightened during his immersion.
Suspended underwater, in the ocean's vastness, with only the sound of his breathing in his ear, he found the experience "uncomfortable" and "claustrophobic". He signalled to his instructors that he had had enough and asked to be brought to the surface. A more faint-hearted person might have rejected the idea of getting into the water again for a repeat performance, but not Dharshana.
Demonstrating his characteristic determination, Dharshana decided to learn to swim. In fact, he went a step further in his effort to conquer his fear of water by getting himself certified as a PADI Open Water diver. The entry-level certification for diving comes from the Professional Association of Diving Instructors.
"That was five years ago, in March 2003," he says. Today, with more than 350 dives under his belt, Dharshana is the proud bearer of PADI Rescue Diver and PSAI Solo Diver certificates. In Sri Lanka, he has explored the waters off Negombo, Colombo, Beruwela, Bentota, Hikkaduwa, Galle, Unawatuna, Weligama, Kirinda (Great Basses), Batticaloa, and Trincomalee. Outside Sri Lanka, he has dived in the Maldives, the Similan Islands, in the Andaman Sea (off the southern coast of Thailand), off Sipadan Island in East Borneo, and off Australia's Great Barrier Reef and Ribbon Reefs and in the Coral Sea.
Describing himself as "diving addict", Dharshana hones his aquatic skills by swimming at least four days a week."When diving, you are focused on only one thing – the dive. The world of land and its problems cease to exist. You are immersed in a silent environment without gravity. The only sound is the sound of your breathing. It's exciting. The marine life you encounter can make the underwater environment hostile and challenging. For me, there is rarely a boring dive."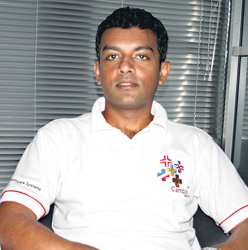 Dharshana: At home as an IT consultant as well as under water
As his passion for diving increased and as he plunged deeper into the subject, Dharshana developed an interest in underwater photography and videography. Starting with basic, relatively inexpensive photography equipment, he started to document his dives and the fascinating terrain of Sri Lanka's ocean floors. In the course of doing research, he found that information was hard to come by, and what little he did find was spread thinly over several websites. The idea for divesrilanka.com was therefore a logical result of the diver's quest for more knowledge.
It is a rare weekend when Dharshana and a group of fellow diving enthusiasts do not go to sea for a dive. Using small, wobbly fishing boats, they set out on their expeditions.
To hear Dharshana talk about his underwater experiences is to enter a mysterious but vivid world of light and shadow, filled with vibrantly coloured sea creatures gliding by and ponderous shipwrecks lying forgotten at the bottom of the ocean floor. He recalls dives in translucent waters teeming with huge schools of fish, giant sting rays, eagle rays, manta rays, sharks and dolphins.
"But I find the small sea creatures just as fascinating and endearing," he says. As a photographer, he lists the dazzlingly coloured nudibranchs (also unromantically referred to as "sea slugs") among his favourites. Dharshana devotes a lot of his time to studying the lives and ways of the underwater creatures he encounters. It is a rare denizen of the deep he cannot identify in one of his photographs.
The consultant-cum-diver is particularly drawn to the shipwrecks that lie in Sri Lankan waters. A particular favourite is the wreck of the H.M.S Hermes aircraft carrier, off Batticaloa. Dharshana has spent much time researching the wreck. "Knowing in advance the history and background of a wreck greatly enhances the experience of the dive," he says.
Over the past five years, Dharshana has been adding to divesrilanka.com and enriching the website's content. He receives mail from fellow diving enthusiasts around the world. While Dharshana earns his bread and butter as a consultant for a leading Colombo-based IT services firm, he runs his website for pleasure and not for monetary benefit. Typically, he updates the site within days of completing a dive, deriving much satisfaction from posting pictures and writing about each dive.
The news he posts is not always cheering. Dharshana says he is a first-hand witness of the steadily deteriorating condition of Sri Lanka's reef systems. Increasing pollution, over-fishing and unsustainable fishing practices continue to inflict serious damage to reefs – the result of human indifference and greed, he says. He has also seen the damage caused by huge cargo ships dragging their heavy anchors through fragile coral domes – acts of "almost criminal stupidity", he adds.
There are times when Dharshana believes all the underwater wealth and beauty he is painstakingly cataloguing is as good as doomed. But he also believes the very act of bearing witness to depredations of the ocean and sharing his observations with the world is a contribution to worldwide conservation. A modest man who would not want to give himself extra credit for what he is doing, Dharshana hopes his efforts will inspire others to dive into the conservation effort.