RACE
Abbas-Mustan's direction 'Race' is now being screened at Liberty Cinema Colombo. Bollywood film stars Saif Ali Khan, Akshaye Khanna, Anil Kapoor, Bipasha Basu, Katrina Kaif and Sameera Reddy in pivotal roles. Released on March 21, the film was shot in Dubai and parts of South Africa.
Thefilm which is said to have influenced by the movie Goodbye Lover is produced by Kumar S. Taurani and Ramesh S. Taurani. Ranvir (Saif Ali Khan) and Rajiv (Akshaye Khenna) are half brothers who own a huge stud farm in Durban, South Africa. They breed horses on their huge ranch house and are also the biggest bookies in the horse racing circuit.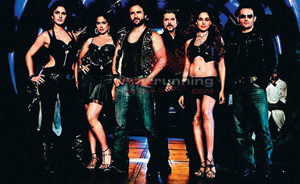 Ranvir the elder of the two is known to be a very shrewd man. He is very aggressive, and is always on the move. His half brother Rajiv on the other hand is very laid back, and is also a chronic alcoholic. Sophia (Katrina Kaif) is Ranvir's personal secretary. She adores her boss and loves him. Ranvir is totally unaware of her feeling and regards her adoration as her efficiency. Shaina (Bipasha Basu) is an upcoming Indian ramp model in Durban. She and Ranvir share a very beautiful relationship, which is just on the borderline of love. R.D. (Anil Kapoor) is a flamboyant police detective who lives by his wits. He has a strange addiction to fruits. He provides the film with witty humor and a very intriguing murder investigator. Mini (Sameera Raddy) is R.D's personal assistant. She is as dumb as a blonde can be, in spite of being a brunette. Shaina loves Ranvir but through a twist of fate gets married to his younger brother Rajiv. When she discovers that Rajiv is a chronic alcoholic, her world is shattered. Ranvir too is disturbed as he has sacrificed his love for his younger brother because Rajiv had promised him that if he gets married to Shaina, he will leave alcohol forever.
Rajiv after getting married breaks his promise and the story starts getting complicated. In a weak moment Ranvir and Shaina come very close to each other, and an affair starts between the younger brother's wife and the elder brother.
A murder is committed, a contract killing is issued, double crossings become the order of the day, betrayals are executed at the blink of an eye, and a point comes where you cannot pick the good from the bad, the evil from the righteous and the tame from the wild.
A sharp tongued detective R.D., getting wise on the proceedings, starts an intriguing investigation with his brainless bimbo assistant Mini, and the story starts to move at a breakneck speed, full of unexpected twists and turns making the climax of the movie impossible to predict.