Dedunu Sihina a tale of many mysteries
The maiden tele direction and production of Dhammika Tissera and Shantha Kumara Silva, 'Dedunu Sihina' is now being shown every Monday at 7.30 pm on Derana. The teledrama depicts a woman's undaunted courage to find her long lost husband and several other stories of many devious characters that we come across in the society.
Seetha with her son come to the town in search of her husband. He had left them and run away years ago. In the town she meets Silvia, the mistress of Kulawansa Walawwa, who agrees to give them lodgings. Seetha in return agrees to support domestic activities in the walawwa. There is a mystery behind the disappearance of Oliver, Silvia's husband and the head of the Walawwa. Now the occupants in the walawwa are Silvia's son Binara, daughter Princy and Pinky, Binara's daughter from his unsuccessful marriage to Anuththra. Princy is responsible for the breaking up of Binara's marriage. And now Anuththara lives with her parents and she is allowed to see her daughter, Pinky once a week.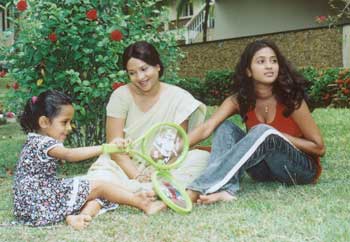 Anuththara's brother Kusal who is better known as 'Dangaya' with his buddy 'Bucket' always involve in illegal activities. Though they do this to make a living they are not making any money. Meanwhile Anuththara's parents who are worried about their daughter's broken family and her lonely life try to find another husband for her. They publish this in the matrimonial column and offer Rs. one million as dowry. The marriage proposal is seen by Suba and Banuka a couple who are living in a rented house with many a financial difficulties. Though poor, they want to show off and they have rented a car despite their having not settled rent for several months. The couple somehow tries to use Anuthtara's marriage with her dowry as a means to get away from their financial constraints. However Vishmi, Suba's sister a courageous self-dependant woman is against this proposal.
One day Dangaya and Bucket go to a restaurant to eat where Vishmi has come with her friends. The two try to play a trick to get their bill paid by the girls. The incident ends in a rumble but Vishmi and Dangaya fall in love. Another young girl, Nayomi who calls over at to Anuththara's house and who plays a major in 'Deduni Sihina' comes there through a distant kingship, she poses herself as a undergrad who is compiling a report on old houses and walawwas. She makes several visits to 'Kulawansa Walawwa' also. Meanwhile the police start a fresh investigation into the mysterious disappearance of Kulawansa. Silvia and others in the family promise to cooperate in the investigation to their best of ability. And during this time Anuththara starts receiving threatening calls.
What happens to Kulawansa? Will Anuththara be able to get married? What is the future of Dangaya and Vishmi? Who is Nayomi? All these and many more questions will be answered at the twenty seventh episode of 'Dedunu Sihina'. Shot in locations around Ratnapura, it stars Douglas Ranasinghe, Semini Iddamalgoda, Palitha Silva, Sanoja Bibile, Sanath Wimalasiri, Maureen Charuni, Kumudu Nishantha, Hycinth Wijeratne, Medha Jayaratne, Malkanthi Jayasinghe and two child actors Himashi Tharaka Perera and Ravindu Eraj Wijesiri in the main cast.
Thivanka Udagedara as editor, Chandralal Manamendra as cameraman, Sanjaya Nipunarachchi as art director with Prabath Janaka Silva and Leslie Wimal Weerasinghe joining the technical crew for 'Dedunu Sihina'.