SOSL begins season with 2 great romantics
The 51st Season of the Symphony Orchestra of Sri Lanka (SOSL) will open with two very great works of the Romantic era – Mendelssohn 's Violin Concerto and Brahms 1st Symphony. The concert will be on Saturday, March 15 at Ladies' College Hall (7 p.m.) with Thushani Jayewardena as the violin soloist and Gregory Rose as Guest Conductor. The concert will begin with Balakirev's Overture on Three Russian Themes.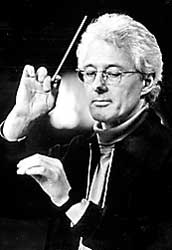 Gregory Rose
Mendelssohn's Violin Concerto, first performed in 1844, is an elegant and impassioned work notable for its raptly lyrical and noble melodies, and richly deserving its enduring popularity. At times it is serene and meditative, and at others a great showpiece for the soloist with virtuoso flourishes and glittering passage work.
Brahms 1st Symphony was completed in 1876, half a century after Beethoven's 9th to which it has deliberate resemblances - especially in the monumental last movement - to point up the entirely different orientation of Brahms's finale. It combines majesty and grandeur with a warm lyricism and a passionate, striving sound typical of Brahms's music.
Gregory Rose is a frequent visitor to Sri Lanka and has conducted SOSL several times over the past six years. The SOSL concert is sponsored by the Earle de Fonseka Trust Fund, and SriLankan has provided the air ticket for Professor Rose. Concert tickets are available at Titus Stores, Liberty Plaza.