Building tennis castles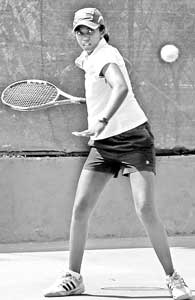 Jithmy in action. Pic by Saman Kariyawasam
The fact that tennis is growing in popularity is made obvious by number of participants that take part in any given tournament. But perhaps what is not known is the fact that the quality of tennis and the players has improved dramatically in the last few years.
Two potential future stars are Guyanga Eleesha Weerasekera and Jithmie Jayawickrema. Weerasekera won both the singles and doubles at the recently concluded 25th ITF (International Tennis Federation) Junior Tennis Championships, while Jayawickrema emerged as runner up in the girl's final.
The Sunday Times spoke to these two players about their reasons for playing tennis and what their future plans were.
Weerasekera attends Lyceum International School and is somewhat of a sports fanatic. He is only one of five Sri Lankans to win an ITF Tournament. At the tender age of 16 he became the youngest player to be selected for the Sri Lanka National Pool that underwent training for last year's Davis Cup tournament.
Weerasekera said: "I played a lot of sports like golf, squash, swimming and tennis before settling on the latter. You could say it was quite by chance really. I started winning a few tournaments and realised that I was good at tennis. And that is the reason why I decided to continue to play tennis."
Weerasekera believes it is important to play tournaments in other countries. He said; "I have not travelled as much as some of the other players. In the year 2005 I reached the semi final in the All India Tennis Association Talent Series held in Bangalore and two years ago I reached the quarter final in the Pakistan International Junior Championships that took place in Islamabad. I have also a number of tournaments played in Sri Lanka ever since I started my career."He added: "I am still only 17 years old and my victory last weekend saw my ranking go up to 604 in the junior circuit. I practice for at least two hours a day and I am also studying for my London 'A' Level Examination in May. After my exams I plan on playing more tournaments possibly overseas. What I won here was a Grade Five tournament and I want to take part in Grade Four and Three Tournaments because my goal is to break in to the top hundred in rankings so that I can take my part in a Junior Grand Slam tournament."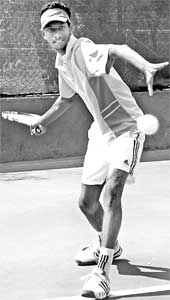 Guyanga Weerasekera
As for future plans Weerasekera said: "I am just going to play it by ear. I want to concentrate on my education and also perhaps represent Sri Lanka at the Davis Cup. I draw inspiration from other sportsman and try and incorporate that in to tennis. For example if you take British Formula One Driver Louis Hamilton. He is also a young guy and missed winning the Driver's Championship by a couple of points. But he did not look at it as a set back. Then you take Australia's Leg spinner Shane Warne. He had the world record for the most number of wickets and was at the top of his game. Yet he decided to retire while still at the top. And these are good examples for any person no matter what sport they are playing."
Jayawickrema though just 16 years of age, has mature head on her shoulders. She has already represented Sri Lanka at the Fed Cup and is ranked at number 328 in the world.
She said: "I first started playing tennis after the SLTA (Sri Lanka Tennis Association) conducted a mini tennis tournament at my school namely Bishop's College. I enjoyed myself and decided to continue. I practice for at least three hours day, one hour in the morning before I go to school and two hours in the evening. I intersperse that with fitness training in the gymnasium. I love to read but with tennis and my school work I can hardly find time to do anything else."
When asked about her future plans she said; "I am going to Brunei next month to play in an ITF Grade Four Tournament. My family is paying for it. My goal is to reach at least the semi finals. I also want to play more Grade Four and Grade Three tournaments because I want to break in to the top hundred. A first round victory for me in Grade Three tournament more or less gives me the same number of points that would be credited to me if I win a Grade Five tournament."
She said in conclusion: "I do want to continue playing tennis and if all goes well maybe one day compete on the women's circuit".'