Young guns boom while seniors fail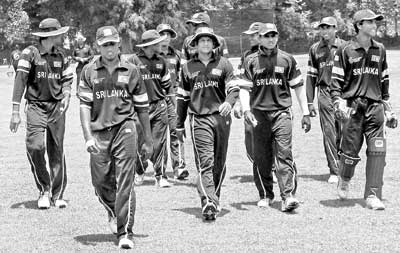 The proud Lankan teenagers walking back to the pavilion after their victory over Australia in their World Cup tie in Malaysia. (Pic Shamil Amit)
The Sri Lanka U19 team participating in the seventh edition of the ICC U19 World Cup in progress now in Malaysia cleared its first hurdle when they came out victorious in the deciding Group 'C' encounter against Australia whom they defeated by five wickets on Friday to remain unbeaten to take the top slot in their group.
So now an exciting battle is in store for the cricket fans in Malaysia when the quarter final of the Super League and Plate Championship gets underway in Kuala Lumpur and Johor from today.
In the run up to the quarter finals some of the teams advanced with some exciting finishes. Especially Sri Lanka and Bangladesh with the two teams recording wins which could be termed as the best two games of the tournament.
The Australians, winners of the inaugural tournament in 1988 and again in 2002 with a strong batting line up coupled with the best bowling outfit of the tournament were favourites to pull off the game. But it was not be as the lions fought back with vengeance to wreck the batting and then dominate the Australian bowling to emerge winners by five wickets.
The Lankan youngsters having bowled out the strong batting of the Australians for a low score of 172, though undergoing some hiccups settled down in the latter stages thanks to three identical knocks of 43 from Dilshan Munaweera, Kusal Perera and Ashan Priyanjan.
In contrast Bangladesh came from no where after being reduced to 49 for 7 before recovering to a low score of 149. This was also a deciding match to see who will finish on top in Group 'D'.
They fought back after England were sitting pretty on 113 for 4 which then seemed that England would canter their way. But it was not to be as the Tigers roared back and had England batting in tatters. With wickets falling at regular intervals the England team panicked and eventually crashed to 136.
Defending champs Pakistan had no difficulty in brushing off the challenge of Zimbabwe as they posted an easy 87 run win to top Group 'A'. But the most unfortunate was West Indies who was with a glimpse of a chance of proceeding to the quarter finals of the Super League. Though they were involved in a spirited run chase of 265 scored by India they fell short by 50 runs.
"It was encouraging and it was after a long time we saw the batsmen really coming out well" said Sri Lankan coach Roger Wijesuriya. "It was the good start given by Dilshan Munaweera that saw the other batsmen getting the confidence. The bowling too came out on top and it was a good start Navin Kavikara, Sachith Pathirana, Umesh Karunaratne and Roshane bowled well and kept the Australians in a shackle.Speaking further he said "we have a talented side there is no short cut for anything and hard work should be put in like what they did today. We wanted to somehow win this game and they showed that they are a fighting unit so if the boys keep on continuing this pattern.
"In fact we did not put much pressure on the boys but advised them to cope up with the game proceeds and that's what they just did. It should be team work and nobody can play individually and they are representing their country.
"So from now onwards we will be going game by game, we have jumped the most difficult hurdle. We will take every game seriously and try to advance further also they have got the confidence they want. But the boys should not be carried away but keep on going concluded the coach."
The Super League and Plate Championships due to get underway today will see matches being played at the Kuala Lumpur at the Kinrara Academy Oval, Bayuemas Oval and Royal Selangor grounds while the Plate Championships will be played in Johor at the MPTI ground and Johor Cricket Academy ground. Sri Lanka will contest New Zealand at the Royal Selangor ground tomorrow.
The quarter final line up:
Super League - February 24 - India vs England and Bangladesh vs South Africa. Plate Championships - Malaysia vs Namibia and Nepal vs Zimbabwe.
Super League - February 25 - Sri Lanka vs New Zealand and Pakistan vs Australia. Plate Championships - West Indies vs Ireland and Bermuda vs Papua New Guinea.
The semi finals of the two categories will be played on February 28 and 29 while the final is being slotted to be played on March 1 and 2.
The final standings after the completion of the league encounters were Group 'A' - (1) Pakistan +1.765. (2) New Zealand +1.406. Group 'B' - (1) India +1.922. (2) South Africa +1.066. Group 'C' - Sri Lanka (1) +1.912. 2. (2) Australia +1.342. Group 'D' - (1) Bangladesh +2.078. (2) England +1.861.