Thilan celebrates national recall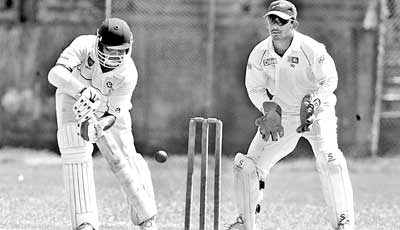 Badureliya SC's Dimuth Hunukumbura is trapped leg-before for 60. Pic by Ranjith Perera
Despite a brave second innings fight-back, Badureliya may perhaps feel that climbing Mount Everest would be an easier task than the one they find themselves facing. After being bowled out for paltry 71 runs in their first essay, Badureliya were 372 for 9 in their second stint at the crease, still needing 299 runs to overhaul Bloomfield in their Tier One Premier League game. At the SSC grounds a superb partnership of 248 for the fourth wicket between Thilina Kandamby and Thilan Samaraweera ensured that the home side were in pole position for an outright victory against Colts. After being bowled out for 274, Colts need to score 248 runs to make SSC bat again. Samaraweera made 184 off 264 balls with 24 hits to the ropes. Meanwhile, Kandamby gave the national selectors some serious food for thought with a brilliant knock of 202 which came off just 268 balls and contained 20 fours and two towering sixes.
At Braybrooke Place honours were even as the match between Moors and Ragama heads in to the final day. Moors managed to bowl out their opponents for 244 to gain a narrow one first innings victory. In their second essay, Moors made 263. Ragama had already lost one wicket with just 22 on the board chasing a target of 264 runs.
In Tier Two Saracens once again showed they were the team to beat. After making 341 in their first innings, Saracens bowled out hosts Sebastianites for just 116 and then enforced the follow on. The home team was making a fist of it, having scored 200 for the loss of five wickets.
Tier One Scores:
At Reid Avenue; Bloomfield 327 and 335 for 6 overnight 413 for 9 declared. (P. Jayawardene 134, M. Masmulla 68, S. Dissnayake 24, C. Jayasinghe 22, G. Gangodawila 46. L. Dias 4 for 90, C. Malinga 3 for 47)
Badureliya SC 71 and 371 for 9 (M. Perera 57, D. Hunukumbura 60, H. Wickremaratne 46, D. Perera 33, R. Perera 20, M. Ratnayake 91 not out, S. Malinga 30. )
At The SSC Grounds; Colts CC 274 and 134 for 7 (M. Warnapura 27, T. Attanayake 23, D. Pathirana 17, A. Matthews 33. K. Lokuarachchi 2 for 18, T. Prasad 2 for 23)
SSC 402 for 3 overnight 552.(T. Kandamby 202, T. Samaraweera 184, J. Silva 59, K. Mapage 16, P. Karunaanayake 20, M. Mirando 22. S. Weerakoon 4 for 140, A. Silva 2 for 141)
At The P. Saravanamutthu Stadium; Chilaw Marians 292 and 44 for 3 overnight 309 (R. Fernando 38, G. Wijekoon 97, G. Perera 48, C. Fernando 34. S. Lakmal 3 for 92, S. Liyanagunawardene 2 for 64, M. Pushpakumara 2 for 44 )
Tamil Union 270 all out and 40 for 1 (G. De Silva 15.)
At The NCC Grounds; NCC 356 and 154 for 1 (D.Gunawardene 45, P. Fernando 66 not out, C. Wojesinghe 37 not out.)
CCC 223 for 5 overnight 346 (A. Pollonowita 84, M. Vandort 34, A. Weththasinghe 136 not out. J. Mubarak 22, N. Rupasinghe 22. D. Kottehewa 4 for 71, N. Komasaru 3 for 56.)
At Braybrooke Place; Moors 245 and 34 for 2 overnight 263 (G. Peiris 29, B. Perera 113, A. Rideegammanagedera 30, H. Dilhara 36. D. Gamage 2 for 41, S. Indrasiri 5 for 71. H. Vithana 2 for 6.)
Ragama CC 244 and 22 for 1
Tier B
At The R. Premadasa Stadium; Lankan CC 374 for 7 overnight 399 (D. Dhammika 100, Y. Tillakaratne 89, N. De Silva 17, G. Namal 30, W. Shantha 60, S. Fernando 37, F. Weerasinghe 16. P. Kumara 4 for 59, C. Madusanka 3 for 95, L. De Silva 2 for 48.)
BRC 246 for 9 (I. Perera 35, G. Perera 83 , P.Fernando 48, C. Madusanka 26. L. Perera 2 for 25, P. Kumara 3 for 58.)
At The Panadura Esplanade; Sri Lanka Air Force SC 209 and 69 for 3 (A. Rizan 43. M. Cooray 2 for 16.)
Panadura SC 49 for 1 overnight 228 (M. Fernando 40, S. Umayanga 33, K. Peiris 51, N.Cooray 44, H. Fonseka 29 not out. T. Lakshitha 4 for 63, P. Gunatilleke 2 for 34.)
At Police Park; Moratuwa SC 237 for 8 overnight 263 all out (R. Rupasinghe 30, L. De Silva 22, P. Fernando 67 not out, S. Dhammika 21, M. Perera 21, S. De Silva 24, H. De Silva 37. A.Ramanayake 3 for 76, T. Weerasinghe 3 for 61, W. Soysa 2 for 32) and 26 for no loss (R. Rupasinghe 21 not out.)
Police SC 207 (D. Sanjeewa 19, M. Soysa 18, S. Wijeratne 17, H. Priyantha 30, T. Weerasinghe 36, M. Rasmijinan 37 not out, H. Jayawardene 24. T. Perera 4 for 63, P. Fernando 4 for 53, S. De Silva 2 for 50.)
At The Moratuwa Stadium; Saracens 341
Sebastianites C and AC 116 all out (A. Tillakeratne 23, K. Fernando 15. P. Pushpakumara 5 for 35, S. Serasinghe 3 for 26, M. Abdeen 2 for 22.) and 200 for 5 (A. Tillakeratne 92 not out, B. Arumathanthri 27, G. Perera 18, B. Peiris 18, B. Rajitha 26. P. Nishantha 2 for 19, S. Serasingha 2 for 47.)
At Panagoda; Sri Lanka Army SC 57 and 20 for no loss overnight 255 (A. Karunathilaka 26, S. Sanjeewa 25, M. De Soyza 91, S. Prasanna 18, D. Mendis 20, R. Palliyaguru 16, M. Ratnayake 19 not out. P. Gamage 3 for 26, S. Randunu 2 for 65, C. Ranatunga 3 for 98.)
Singha SC 177 and 3 for no loss