Now it's a do or die battle
It was a week of great cricket, but it has also been a week where we haven't been able to translate good performances into victories that have left us desperate in our race to remain in the Commonwealth Bank tournament.
At Adelaide on Tuesday we ran into some early trouble to be six for two wickets. We were continuing to experiment with Dilshan in the opener's role and that didn't pay off while Sanath was distinctly unlucky to be run out at the non-striker's end.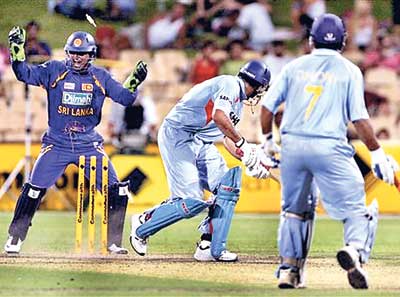 My wicket of Yuvraj Singh in our match against India. (AP)
But Sanga and Mahela did an excellent repair job and at the break we believed that 238 was a defendable target. Some of us did think that we were perhaps 20 runs short of a match winning score after being 161 for 4 in the 40th over. With six wickets in hand maybe we should have been more attacking in the slog overs because we added only 71 runs in the final ten overs.
But that didn't seem to matter when we had India at 35 for three with both Tendulkar and Gambhir back in the pavilion. It was then that Yuvraj Singh took control of the game, first cautiously, then more adventurously. When the breakthroughs finally came, it was too late. India scraped through in the last over.
We discussed what happened thereafter. The run outs of Sanath and Mahela were freakish and unfortunate but these things happen every now and then. But we did decide to make a change in the opener's slot, bringing in Dilruwan Perera for the game against the Aussies and asking Dilshan to bat at his more accustomed No.6 position to bolster the brittle middle order.
Our former skipper Arjuna Ranatunga, now in Australia, dropped in to say 'hello' to the boys during a team meeting. It is refreshing to see a cricketer at the highest level in charge of the game and the boys were only too happy to see him here.
Facing Australia in front of a huge Sri Lankan audience at the MCG on Friday, Mahela called correctly and decided to send the Aussies in. I know this has been criticised later but when we restricted the Aussies to 184, no one complained. I was told it was Australia's lowest total in a 50 over innings since 1997, so I don't think there need to be any more justification for Mahela's decision.
In fact, it was a great bowling performance from us. I was quite satisfied with my own performance as I feel I have to justify my place in the team with the emergence of so many youngsters. I feel I have achieved that, getting vital breakthroughs and keeping the runs down while bowling with a very good rhythm, even if I was not very lucky with a couple of chances going a begging off my bowling.
All the bowlers performed their roles really well but Farveez Maharoof must get extra credit. Maha was targeted by Yuvraj in the game against India and one of the problems we had in that game was completing his allotted ten overs with part time bowlers, Sanath and Dilshan. But Maha bounced back admirably against the Aussies returning two for just 20 off his ten overs.
With a target of 185, we backed ourselves to win this one. Sanath has been criticised for his first ball dismissal but we have given him the license to attack from the word go. At times, he gets us a flying start which wins the game for us-like he did against India in Canberra and at other times he fails. Friday was not his day.
When newcomer Dilruwan fell to a debatable lbw shout, it was back to the familiar situation of the openers being back for next to nothing. But run making was extraordinarily difficult through a combination of tight bowling, a not-so-easy wicket and our own batsmen making life difficult for themselves.
Batting has been our major shortcoming in this tournament and we have discussed our problems at length. The boys are middling the ball well at the nets, so it appears as if they are not relaxed and are putting themselves under pressure when in a match situation. We can-and must-learn from both India and Australia. How Yuvraj Singh and M.S. Dhoni resurrected the Indian innings and how Michael Clarke and Mike Hussey rescued Australia should be a lesson for us.
The rain did not help. We were caught unawares when the showers suddenly arrived and a Duckworth-Lewis (D/L) situation arose. There was no time to instruct the batsmen to accelerate to try and achieve the D/L target and before we knew it, it was all over.
It did leave us feeling that we could have still made a match of it had the game gone its full distance, given the small target we were chasing. We are now in a position where we have to win both remaining games-one each against India and Australia-if we are to reach the finals.
We noticed that there have been criticism of the Australian players-especially the batters who are not doing too well-in the media here with claims that they are distracted because of the Indian Premier league (IPL) and the huge amounts of money on offer. Most of our players too received offers this week and from purely a player's perspective, it secures us financially and that must be counted as a benefit because it too will contribute to better performances from us. But its impact on the game needs to be carefully considered.
With cricket becoming increasingly commercialised, we may be heading towards an era where-like in football-countries play each other in 'friendlies' while the big attractions are the club games with the big name players. Yet, it is too early to say how long the IPL will survive and whether it could continue to pump huge amounts of cash for players every year. Right now though, the IPL is furthest from our minds which are set on Tuesday's game against India at Hobart. We attended a felicitation organised by Sri Lankans in Melbourne yesterday where 650 'locals' attended the reception. We leave for the Tasmanian capital today (Sunday) and train on Monday.
So far, it has been a mixed tour for us. Our bowling has been up to the mark but not so our batting. Now we are in a do-or-die situation and both games need to be won. It is a tough ask but we will have to give our best and stay focussed on the game.