She always put others before self
Rita Derry
M – Merciful
O – Observant
T – Tender
H – Honest
E – Ever-loving
R – Reasonable
Mother of mine, you gave to me all of my life, to do as I please. Without your love what would I be, Mother, sweet Mother of mine?
The verse from a song is what comes to mind when I think of my mother. She was but a teenager when she married my father, Rodney Derry, way back in 1949, and through the years they produced six children. Their first son caused them a lot of grief - such a beautiful, healthy and chubby child - yet he was to grow up with an affliction – now known as MS - (Multiple Sclerosis) a term unheard of way back in the late fifties - in "Ceylon", anyway.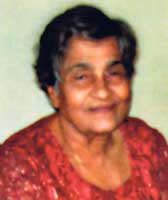 Trouble always comes in pairs - soon Mum learned that her husband (my Father) had a swollen ankle that, over the years, eventually became known to us as 'Elephantiasis'. A handsome young man, employed at Thomas Cook - earning a substantial salary enough to keep Mum in the lap of luxury, had to suddenly drop out of work and go into hiding, literally! Never one to give up – Mum did all she could to cure them – selling everything of value they owned and leaving no stone unturned, yet, there seemed to be no way out. Then when poverty came knocking on the front door - did she quit? Never! She got herself a job and took care of two patients and five small children, initially with some help from her own parents and soon on her own. She provided us with everything we needed - teaching us the difference between "needs" and "wants". Dad, God bless his soul (may he rest in peace) took the role of 'mum' and stayed at home - helping out as best as he could. Mum always had a ready smile on her face and to Dad that was sunshine.
From an early age, I learned to be content with whatever I had as I never heard my Mum complain. Dad told me once that being rich or poor in terms of material things did not count, it's how rich I was inside that mattered – and Mum was the personification of this bit of advice. They were both wonderful parents – always compassionate, completely honest with each other and ever ready to help anyone in anyway they could.
The numerous people who came to pay their last respects to Mum surprised me. I never knew that she had helped so many people in so many innumerable ways! Never one to boast or pretend, Mum was proud - yet humble, she was strong yet gentle, she was stern yet lenient and she was poor yet rich – in spirit, compassion, love and honesty. The eldest in the family of nine, - her siblings were all present at her funeral – and all of them had a story to tell – of how Mum touched their lives in one way or another. She was the peacemaker as well as the fighter - she would go to any lengths to right a wrong - done to her or anyone of hers! Very protective and fierce as a lioness, she would watch over all of us. If I could have a wish - it would be to wipe out that tired look on her face - to give back to her all that she gave me - a healthy body and ample love and affection.
She was in the Intensive Care Unit of Asha Central Hospital from February 5 until the day, she died on February 13. Each time I visited her and asked her, 'How are you now, Mummy, she would answer, "I am fine my darling, but tell me, how are you - did you eat? How did you come here? Sit down, you must be tired now" – always others before self - that's my mother. I shall miss you Mum for the rest of my life. I know you are in a very special place in heaven – may God rest your soul in peace, till we meet again someday.