They have something to smile about
The Kiwanis' Visions of Hope project gives new meaning to the lives of tsunami-affected children of Pandiruppu
Vidurshani, 12, tries hard to hold back the tears when she speaks of that awful morning when the sea erupted in anger. The black waters churned around her and her little brother and sister as their father lifted them to safety atop a garden wall. The next terrible wave demolished the wall, and never again did she see her father, or brother, or little sister alive.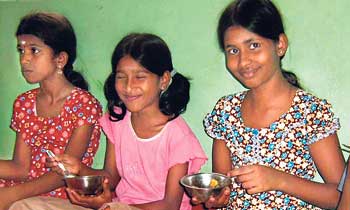 Vidurshani, right, and the other children get nutritional foods daily including fresh fruit and milk.
Vidurshani remembers clinging to a window until the violent waters finally receded. Now she and her mother remain to comfort one another. Sathusan, 12, at least still has his mother and father. But he lost all four of his young brothers and sisters. Even three years later, tears well up whenever he thinks of them.
These are only two stories of surviving children of Pandiruppu, a village where 1,711 neighbours—mostly women and children—perished that morning in the Boxing Day Tsunami. Everyone there lost friends. Whole families were swallowed up.
Even before the tsunami, women of Pandiruppu had organized themselves into a self-help group, calling themselves 'Nava Shakti'. The name was aptly chosen, for nava shakti in Sanskrit means not only 'Nine Goddesses' (who join together) but also 'New Power'. By working together they discovered a new-found power to change the course of their own lives and that of their children.In the wake of the tsunami, the society swung into action and organized an after-school programme for the most traumatized children, whose emotional balance had been unhinged by the catastrophe, especially with the loss of family members.
Meanwhile in far-off Canada, Kiwanis service clubs of EC&C Division 18, wanting to assist tsunami-affected children of Sri Lanka, contacted the Kiwanis Club of Colombo. The Sri Lanka Children's Trust proposed a joint project to help Nava Shakti, whose members had been struggling without any external support whatsoever.
Soon other project partners joined, including notably Knorr-Bremse Global Care of Germany, the City of Munich, Llanwrtyd Wells Tsunami Appeal of the UK, and recently Calhoun School of New York. Called 'Visions of Hope', the project was undertaken as a lasting commitment to endure until the smallest children become responsible and employable young adults.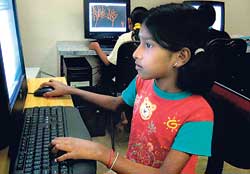 A whole new world of opportunity opens for Nava Shakti children who are becoming computer literate.
With Kiwanis support, the project acquired a ruined building in the heart of the children's neighbourhood. Knorr-Bremse Global Care then funded its complete refurbishment as the Visions of Hope Children's Center that opened in August 2006. Other partners support ongoing activities for children, while students of Calhoun School, New York, are raising funds to construct a new classroom that will host classes in visual and performing arts.
Today with support from Kiwanis Clubs and the Sri Lanka Children's Trust, Nava Shakti provides 85 children age 4-15 with free tutoring programmes, daily fruit & milk, computer education, educational tours and, especially, hope for their future. These children were not orphaned; all reside close by and stay with their parents or legal guardians at night.
Visions of Hope Project is administered by the Sri Lanka Children's Trust, a local NGO working to improve health, sanitation, nutrition, and education for children affected by poverty, conflict, disabilities, or natural disaster.
From preschool teaching assistants up to administrators who monitor activities and report back to project partners, Visions of Hope Project is in the hands of volunteers who serve at the grassroots level. Most are from Pandiruppu, but foreign volunteer teachers from the United Kingdom, Canada, and India also serve there regularly.
The Project's nutritional programme focuses not upon providing basic daily calorie intake (since children get that at home), but rather upon addressing nutritional deficiencies in fibre, vitamins and minerals. Nava Shakti children get a daily snack or nutritional boost including fresh cow's milk, fresh fruit, dates, and boiled legumes (like mung, black-eyed peas, and chick peas).
Besides nutrition and education, Nava Shakti children also get a daily one hour of synergy co-counselling. That is, young women trained in conflict and disaster rehabilitation techniques for children conduct daily play therapy activities.
Computer literacy is a new concept in rural areas. Yet Nava Shakti children now get weekly computer instruction at a nearby community centre. Administrators intend to convert a classroom into a computer lab so older children can spend much more time mastering computer related skills, including English.
Another project aim was to conduct annual educational field trips. After weeks of preparation, last August 12 teachers and parents accompanied 40 children on a bus tour of the hill country. Covering 600 km in three days, they saw Victoria Dam, Temple of the Tooth, Peradeniya campus, Devon Falls, Hakgala Botanical Garden, tea estates, and other marvels that folks in coastal regions seldom get to see.
Vidurshani, Sathusan, and scores of their neighbourhood friends seldom miss a day together at Nava Shakti. They always have something to look forward to in their day, thanks to a network of volunteers and donors stretching from Pandiruppu to distant foreign lands.
For details of Visions of Hope Project, see www.NavaShakti.org.