'Ratagiya Aththo' send proposals to President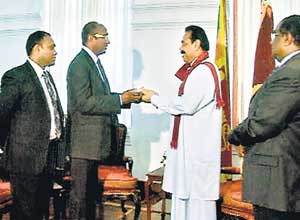 Sajith Perera hands over a set of proposals from the organisation 'Ratagiya Aththo' to President Rajapaksa to minimise problems faced by Sri Lankan migrant workers. Our picture shows AmbassadorWarnakulasuriya on the left of the President. Thushara Kurera is also seen in the picture.
An organization named 'Ratagiya Aththo', comprising Sri Lankans abroad, submitted a set of proposals to President Mahinda Rajapaksa on resolving the problems faced by migrant workers and providing them with facilities in recognition of their contribution to the country's economy.
The proposals include treating all employees and workers with respect, ensuring greater security for Sri Lankan domestic workers in West Asian countries, establishing a pension scheme for migrant workers and taking steps to ensure that the foreign exchange earned by them reaches the country.
The organization proposes that migrant workers be given an opportunity to cast their votes at elections and be given concessions when travelling on SriLankan Airlines or Mihin Air from destinations where large numbers of Sri Lankans live.
In addition, the proposals urge the Government to charge a nominal fee or to refrain from charging a fee from those leaving for employment in West Asia.'Ratagiya Aththo' also propose that the Government should reduce fees and documentation needed when applying for dual citizenship. The proposal calls for a scheme under which marks are awarded during school admissions to children whose parents are working abroad.
The Sri Lankan Ambassador to Italy Hemantha Warnakulasuriya, was the chief guest at the presentation of the proposals.