This is the way to go to school and back
New guidelines for school van drivers to ensure safety of schoolchildren
Programme launched in Nugegoda soon to be implemented islandwide
With concern mounting over the security of schoolchildren, guidelines have been issued to school van drivers, starting with the Nugegoda Police Division. These regulations, which will be implemented islandwide, were issued by the Divisional Traffic Branch of the Mirihana Police following concerns of possible LTTE attacks targeting schoolchildren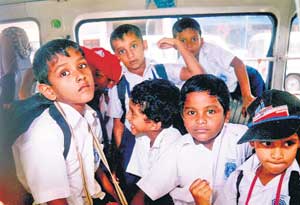 Fears over LTTE targeting schoolchildren while travelling to and from school
Mirihana Superintendent of Police T.M.W.D. Tennakoon said vigilant committees comprising parents, past pupils, teachers and students have already been tasked with checking parcels, students and their school bags in all schools in the area.
He said in addition to fears that the LTTE may target schoolchildren not only in schools but also while travelling to and from schools, they had decided to implement these guidelines for school van drivers. He also said that these regulations were a result of complaints pertaining to child abuse cases and school van drivers.
"We had a programme to educate van drivers about their responsibility towards children. They have been given the responsibility of ensuring the safety of the children while travelling to and from school," he said. More than 800 schoolvan drivers have registered their vehicles with the Nugegoda Police Division while police also have information on engine numbers, vehicle type, colour and other background information.
"There are many school van drivers who come from outside our division and we are checking their backgrounds from the police divisions of their hometowns to ensure that the drivers do not have a past criminal record," he said emphasizing that these new regulations were as much about security concerns as it was about child abuse concerns.As a means of ensuring security of the children van drivers have been instructed to check the interior and exterior of their vehicles before allowing the children get in to the vans. The drivers have also been asked to pay special attention to the undercarriage of the vehicle where magnetic or time bombs could be fitted onto.
All registered school vans have been issued a sticker, while van owners have been instructed to inform police if they change the driver of the vehicle so that they could be registered with the police. Commenting on other security measures pertaining to schoolchildren in the Nugegoda Police division, SP Tennakoon said some of the big schools had been provided with Army and Police security.
New guidelines to school van drivers
Necessary documentation including insurance documents, registration and the driver's license must be valid.

Children must be transported to their destinations (to school and back home) on time.

Apart from the driver another person should be present in the vehicle to ensure the safety of the children.

The driver/assistant must especially be alert when children board and dismount the vehicle

The vehicle should have a first-aid kit

Children travelling in the vehicle must not be abused or hurt in any way.

Children must be handed over to their parents or guardians directly

The driver should have the addresses and phone numbers of the parents in case of an emergency.

Parents should be given the number of the vehicle, the name, address and phone number of the vehicle owner and driver.

In case of an accident or breakdown parents should be informed immediately and the children should be transported home in another vehicle.

The vehicle must be checked for suspicious packages or explosive material before children board itDrivers must follow road rules and safety rules at all times.