Kelani Vihara head appointed varsity prof.
A felicitation ceremony to mark the recent appointment of the Kelaniya Rajamaha Vihara Chief Incumbent Ven. Mahinda Sangarakkitha Thera as a professor of the Kelaniya Univesirty was held at the Kelaniya Temple yesterday.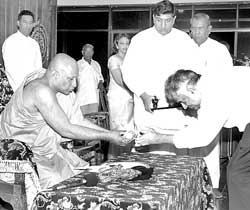 Yesterday's picture of Ven. Mahinda Sangarakkitha Thera being felicitated by Opposition Leader Ranil
Wickremesinghe
The chief guest at the event was Opposition Leader Ranil Wickremesinghe. Many other prominent figures graced the occasion including Archbishop Oswald Gomis. Veddah Chief Vanniyela Eththo too was present during the ceremony.
Ven. Sangharakkitha Thera is the Chief Incumbent of the Kelaniya Rajamaha Vihara and Head of the Buddhist and Pali Faculty of the Kelaniya University. Kelani Temple Dayaka Sabha Co-secretary Jayaraj Chandrasekara said the chief incumbent of the historic Kelani Temple was his childhood friend and classmate in their school days.
"We studied together at Royal College, Colombo. My friend excelled in sports as well as in education. He was the captain of the junior cricket team and was a talented all rounder. He was in the football team too and was once adjudged best school athlete," he said.
He became a monk in the 1960s under the guidance of the then chief incumbent of the Kelani Temple Ven. Thalewela Vijitha Dhammarakkhitha Thera. He studied at the Gangarama Temple in Hunupitiya and obtained his degree from the Kelaniya University. He studied Buddhist Philosophy and French in the university.
According to Mr. Chandrasekara the monk was awarded a two year scholarship to study at the prestigious Sorbonne University in France where he obtained his postgraduate degree in French. Later he obtained his Masters' degree and doctorate from the University of Delhi, India. He became chief incumbent of the Kelaniya Temple in 1992 following the passing away of the then chief monk.
"Venerable Sangharakkitha Thera has rendered a great service to Buddhism. He started a special Pirivena to teach Buddhism in the English language and has taken laudable steps to encourage the monks who are on missions all over the world. It is indeed a great privilege to be able to admire and appreciate the venerable Thera," said Mr. Chandrasekara.