Just chilling
When we think about going out and chilling with some friends or having some family time, and if we don't want to travel too far if we are not in the heart of Colombo – the options are really quite minimal.
However, for those of you living in the Thalawathugoda area, there is an option, in terms of chilling out, nibbling on some good food and having a nice cocktail. And all this at a pretty reasonable price. The ideal place might just be 'The & Pub.' What 'The & Pub' gives you is a pub–type atmosphere along with a family restaurant. They serve all types of dishes ranging from Continental to Eastern food.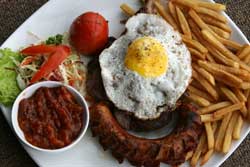 They also have a variety of stakes, lamb chops and sea food. If you wish to have any local dishes, that can be arranged, but you need to let them know in advance. Due to there being foreign organizations as well as an International School in Thalawathugoda and the area surrounding it being a residential area in general, the joint owners felt Thalawathugoda, in spite of its distance from Colombo, would not be too bad an option to open up this restaurant/pub. And it seems they have not made a bad move, because they do get quite a crowd both foreign and local, according to the manager at the restaurant.
As with any restaurant, they too are very busy during the weekends, Friday and Saturday in particular. The restaurant is not a fine dining one but a casual family restaurant. Along with the heavy meals, they also serve sandwiches, salads and snacks. Alcohol can also be ordered and they have quite an impressive beverage list with a variety of cocktails, both foreign and local wines and spirits as well as fresh juices.
'The & Pub' is very spacious and at the same time has a very relaxed atmosphere. If you would like to play a game of pool, or just watch some TV, while you nibble on something or sip on a nice drink, that too is an option and the private sitting area would probably be ideally suited for this. Sitting down in the private sitting area, you just don't feel like getting off the comfy sofas, so a good movie and a nice drink or snack would be just what you are looking forward too at the end of a busy work week.
The dishes prepared by the local chef are quite tasty and there is a wide variety to choose from, the Hot Chocolate Brownie served with Vanilla ice cream is quite a treat, in terms of the desserts. And the meat dishes quite impressive. There are around 20 staff in total at the restaurant, and the waiters are very courteous. The restaurant is a joint venture between a Sri Lankan and German by the name of Paul Bischof.
'The & Pub' is located on the 1st Floor, 531, Capital Mall Building, Capital Mall, Madiwela Road., Thalawathugoda, and you can contact them on 454 2881 for more details.