Jack of many trades
Combining academics and the arts, and doing so successfully, is no easy feat. Attempting to give himself as well as his colleagues and fellow students a boost in this department, Tharindu Weerasinghe, is quite an achiever.
A graduate of the Faculty of Engineering, at the University of Peradeniya, and now an Asst. Lecturer at the campus, he continues to take his writing abilities forward as well. Already having published a book of poetry by the title of Candlelight, this was probably the first English anthology of Sri Lankan poems, written by an Engineering under-graduate. The poem titled A Tale of Two Ears, published in the book, recently received the Editor's Choice Award from the International Library of Poetry (www.poetry.com). "Only 12% of the thousands of entries get this type of an honour. I was so glad to be informed that one of my poems had been awarded the Editor's Choice for 2007! Informed about it by Mr.Howard Ely, the Managing Editor of the International Library of Poetry, I was thrilled about the news!"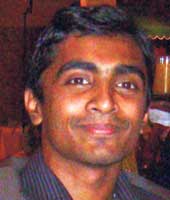 Tharindu Weerasinghe
Hanthanen Ena Pawanak, is yet another venture by Tharindu, Manoj Alawathukotuwa, Lecturer, Dept. of Fine Arts, University of Peradeniya and colleagues, where they hope to create a forum for youth talent and the arts to intermingle. The show was Tharindu's brainchild, as he had a number of lyrics which were composed newly, as well as some others which weren't.
"So, out of them, 12 songs of mine, together with two songs from the Faculty of Medicine, and these will be performed at the show. The creative direction is by Tharindu as well. My main aim is to promote campus students and staff, along with these new songs and create an opportunity for a CD to be released for the first time in a University," said Tharindu. He added that Manoj Alawathukotuwa, the music director helped him immensely to make the show a reality.
The show scheduled to be held between the first and second week of March, will be held at the Sarachchandra Open Air theatre, University of Peradeniya. The principal sponsor for Hanthanen Ena Pawanak is IRQUE project, University of Peradeniya, and it is organised with the guidance of Dr. Gamini Hitinayake-Head, Welfare, University of Peradeniya. A program solely for the introduction of newly composed songs, this is an ideal opportunity for the undergraduates and alumni of several faculties of the University to get-together and produce their own songs.
The singers and melody composers are Kasun Karunarahtne, Samitha Dunukepotha and Mahesha Senananda (Faculty of Arts), Charith Suranga (Engineering), Dulantha Warnasooriya and Asela Eranda (Faculty of Engineering) and Sanjaya Kumarasinghe, Nuwan Priyadarshana and Chulanga Wickramasinghe (Faculty of Medicine).
The themes of the songs range from human spirituality, to love (maternal, paternal, love between male and female) patriotism and betrayal in love. A book comprising of the list of songs, along with a CD will be launched at the show, while the chief guest at the event will be Veteran Poet, journalist, cinematographer Mr. Buddhadasa Galappatti. "We invite all the university students, parents and fans to come and witness this unique event!" said Tharindu. For further details, contact Tharindu on 0716-860 396 or Manoj on 0777-627931.