Turkey launches ground offensive in northern Iraq
CIZRE, Turkey, Saturday, AP - Supported by air power, Turkish troops crossed into northern Iraq in their first major ground incursion against Kurdish rebel bases in nearly a decade and killed dozens of militants, the military said. But Turkey sought to avoid confrontation with U.S.-backed Iraq, saying the guerrillas were its only target.
The offensive, which started late Thursday after aircraft and artillery blasted suspected rebel targets, marked a dramatic escalation in Turkey's fight with the PKK rebel group even though Turkish officials described the operation as limited.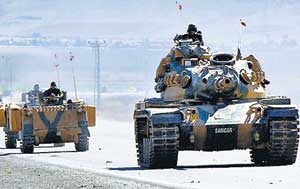 Turkish tanks and armoured vehicles move near the southeastern Turkish town of Silopi, near the Iraqi border. REUTERS
Turkish military said five of its troops and 24 Kurdish rebels were killed in clashes. At least 20 more rebels were killed by artillery and helicopter gunships, it said. Artillery units positioned on the Iraqi-Turkish border near the border town of Cukurca, further east, could be heard firing shells across the border on Friday evening, Dogan news agency reported.
A military officer of the U.S.-led coalition in Iraq said on condition of anonymity that several hundred Turkish soldiers had crossed the border. The coalition has satellites as well as drones and other surveillance aircraft at its disposal.
Sky-Turk television said about 2,000 Turkish soldiers were in Iraq, operating against rebel camps about 3-4 kilometers (2-2.5 miles) in from the border. NTV television said a total of 10,000 soldiers were inside Iraq in an operation that had extended 10 kilometers (6 miles) past the frontier. The activity was reportedly occurring about 100 kilometers (60 miles) east of Cizre, a major town near the border with Iraq.
It was not possible to independently confirm the size or scope of the attack on the Kurdistan Workers' Party, or PKK, which is considered a terrorist group by the United States and European Union. CNN-Turk television, citing Turkish security officials, said the operation could last two weeks. ''Twenty-four terrorists were killed and many others were wounded,'' the military said in a statement posted on its Web site late Friday.