Japan's crown prince turns 48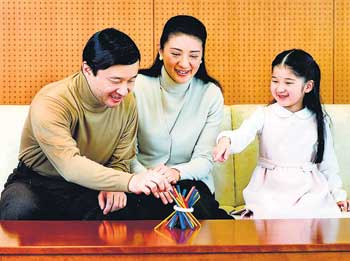 Japanese Crown Prince Naruhito, left, Crown Princess Masako, centre and their daughter Princess Aiko (AP)
JAPAN, Tokyo, Saturday, AP - Japan's crown prince, who turned 48 today, said his wife needs more time to recover from an stress-induced illness before she can return to official duties.
Naruhito, heir to the world's oldest monarchy, said Crown Princess Masako is making progress, but not quite ready to fully resume her duties and public appearances. Masako, 44, withdrew from most imperial functions at the end of 2003 after developing a condition her palace doctors call ''adjustment disorder.''
''Masako, with her conditions, still has ups and downs, (but she) is making efforts to expand her activities, both publicly and privately,'' the crown prince said at a news conference, a transcript of which was released today.
''I would like to ask for your continued patience and understanding,'' Naruhito said. ''Masako is helping me in many ways and I want to continue giving her firm support,'' he said.
Masako, a former diplomat educated at Harvard and Oxrford, came under immediate pressure to produce a male heir for the monarchy after her marriage to Naruhito in 1993, but suffered a miscarriage six years later.
She gave birth to a daughter, Aiko, in 2001, but females are prohibited from taking the throne. Naruhito visited his parents' palace later today to mark his birthday.