Bhutto's party moves to clip Musharraf's wings; meets to name new premier
ISLAMBAD, Saturday (AP) - Leaders of Pakistan's main opposition party were pushing to clip some of President Pervez Musharraf's powers today following their sweeping victory in parliament elections. They also were mulling candidates for the next prime minister -- with a veteran politician reputed to be a consensus builder emerging as the favorite.
In a sign of the challenges facing the new leadership since Musharraf's ruling party was dealt a crushing blow in last Monday's polls, fresh violence flared in the volatile northwest where al-Qaeda and Taliban-linked militants operate. A roadside bomb killed 12 people Friday when it ripped through a truck carrying wedding guests, police said, and clashes between security forces and Islamic militants left two others dead.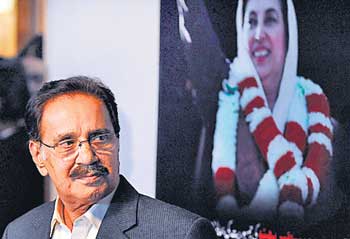 Makhdoom Amin Fahim, tipped to be appointed as prime minister, attends a news conference in Islamabad on Thursday. AFP
Leaders of the Pakistan People's Party -- once headed by assassinated ex-premier Benazir Bhutto --were holding closed-door talks through the weekend on ways to end a yearlong political crisis that saw the imposition of emergency rule, the purging of the judiciary and the rounding up of hundreds of Musharraf's opponents.
Though a final decision was not expected before Monday, PPP leaders said they were considering a bid to strip the president of the right to dismiss parliament.
''The participants ... vowed to work for the restoration of the parliamentary supremacy by undoing undemocratic provisions under which elected parliaments have been dismissed,'' the party said in a statement. The head of state has the power to dissolve parliament under Article 58 (2b) of the Pakistani constitution, which was first written into the charter enacted under the late President Zia ul-Haq. The article was removed after his death but was reinstated under Musharraf.
The party's choice to head the next government after the new parliament convenes, probably next month, was also high on the agenda. The front-runner was veteran politician Makhdoom Amin Fahim, 68, a longtime Bhutto loyalist from Sindh province who turned down an offer of the premiership by Musharraf in 2002, said officials and political analysts.
Other possible nominees include Shah Mehmood Qureshi, a top People's Party figure from Punjab province, and former National Assembly speaker Yousuf Raza Gilani, party officials and analysts said. Shafqat Mahmood, a prominent political commentator and former People's Party spokesman, said Fahim was the favorite in part because the party wanted a prime minister from Sindh province, the Bhutto family stronghold. Both Qureshi and Gilani are from Punjab, the biggest and richest of Pakistan's four provinces.
Fahim ''is a consensus builder,'' Mahmood said. ''He would be good in a coalition and in papering over differences.'' Fahim, a mild-mannered figure short on charisma, served as the go-between for Musharraf and Bhutto during her eight years in exile. Fahim turned down the prime minister's post five years ago because Musharraf wanted him to cut his ties to the Bhutto family.
Bhutto's party won the right to pick the new prime minister by finishing first in this week's balloting, claiming at least 87 of the 268 contested seats. The Pakistan Muslim League-N of former Prime Minister Nawaz Sharif trailed in second place with 67 seats, while the pro-Musharraf party took only 40 seats. Bhutto's husband, Asif Ali Zardari, and Sharif agreed Thursday to form a new government. Together, the two parties have 154 seats _ sufficient to govern but not enough to impeach Musharraf.