Thailand-under siege
Islamic insurgency in southern Thailand intensifies as 'hearts and minds' approach fails
RAE POH, Thailand (AP) - The tea shop is abandoned. Rubber plantations stand untended. Soldiers constantly patrol the one-lane road leading into this Muslim village. Rae Poh was once designated a "green zone" village, one of more than 1,600 such islands of peace amid the violence that has torn Thailand's southern tip since a Muslim insurgency erupted four years ago. Then, on Jan. 14, insurgents ambushed an army patrol about a mile (2 kilometres) away, killing all eight soldiers and beheading one of them.
Now Rae Poh is a "red zone" - one of some 320 loosely designated by the authorities as insurgent hotbeds and under virtual military siege. Their number is up from 215 at the end of 2004, the first year of the insurgency - a dramatic example of the failures of a government hearts-and-minds campaign to quell an uprising that has taken more than 2,900 lives.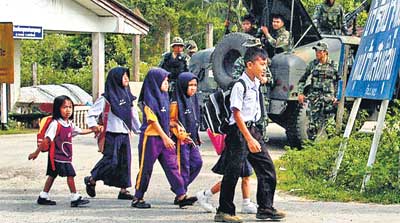 A group of Thai-Muslim school children pass Thai soldiers providing security at Rae Poh village in Narathiwat province, southern Thailand
The insurgency worsened as the government of Thaksin Shinawatra adopted an iron-fist policy. The military regime that overthrew him in 2006 tried a conciliatory approach, apologizing for Thaksin's crackdown. But since December the violence has escalated. Now Thailand again has an elected government, and the insurgency is its big challenge.
The rebels have never made public their demands, but researchers who have spoken to them say they are seeking an independent Islamic state in the three southernmost provinces that were a Muslim sultanate until annexed by Buddhist-majority Thailand a century ago. The new government describes the insurgency as a security problem that the military, with 40,000 troops and police in the south, can handle. But on the ground, 500 miles (800 kilometres) from the capital, Bangkok, a senior army officer says the military can't resolve the crisis alone.
"We have managed to suppress the violence in a number of red zones but I acknowledge we still don't have strong political or communications teams that work to create understanding with villagers after something like this happens," said Lt. Gen. Veerachai Nakwanit, referring to the January ambush. "Soldiers can provide security," said Veerachai, who heads military operations in Rae Poh's Narathiwat province. "But men in uniform can't do much to win the trust of the people, especially when the other side is relying on religious leaders for its political work."
An Associated Press reporter, who had to talk her way past a suspicious army commander to enter Rae Poh one week after the attack, found soldiers reluctant to go in and villagers afraid to go out. The night before the attack, the normally bustling village market and tea shop were unusually quiet. Investigations later showed that insurgents had been planning the attack for at least three days from a nearby jungle hideout, said Col. Kanart Nikornyanond, whose unit is based in a deserted Buddhist monastery near Rae Poh.
Nobody from Rae Poh stepped forward to report the suspicious activity, despite his troops' efforts to cultivate trust, he said."We thought we had a good relationship with the local Muslims here, but they don't trust us and they are scared of the insurgents," the colonel said. Pati Mudoloh, whose son Isamael was detained after the ambush, acknowledged that villagers noticed something amiss but said they were too frightened to talk to the soldiers.
"What's the point?" she asked. "They already suspect we Muslims are all insurgents." After the ambush, troops searched homes and found traces of explosives and gunpowder. At least 17 men were detained, of whom four have been released. One of those held is Mena Jeh-ha's 19-year-old son, Asaman. He is accused of triggering the bomb that flipped the soldiers' vehicle before insurgents unleashed a barrage of gunfire, leaving no survivors.
The soldiers "came into the house, searched thoroughly and asked if I had a son. They took him away when he came back," said Mena, wiping away tears with her veil. "I don't want him to be beaten or tortured. He didn't do anything wrong." Authorities say that an ion scan showed traces of ammonium nitrate, a bomb-making ingredient, on Asaman's body.
Many innocent young men get caught up in the sweeps, experts say."They are taking the breadwinners of the family," said Zachary Abuza, an expert on terrorism in Southeast Asia at Simmons College in Boston. "It could be counterproductive in the long run and add fuel to the already tense situation." Masoh Maeh, a southern Muslim leader sympathetic to the government, said the authorities face a long fight."The insurgents have their own agenda and they are not just reacting to one policy or another," he said. "That's what makes it difficult. As long as they still have ammunition, they set the agenda, not the government."
The problem, he said, "is deeply rooted in history and no matter what the government does, they can't change that immediately." In Rae Poh, villagers watch approaching soldiers with suspicion. Women and children keep their heads down."Every house is dead quiet by four," said Parida Makeh, a Muslim woman whose house was also searched on the day after the incident. "We don't want to keep the lights or the TV on. It's better not to attract too much attention, so we just say our prayers and go to bed, hoping they won't come back to search the house or take more people away."
The village lives off rubber-tapping, but some villagers said they are too scared to go to the plantation, even under military protection."We don't want to go out at dawn with the soldiers wielding their guns. They said it's for our protection but, after all, they suspect our kids were involved in the attack. Who knows what they will do to us?" Parida said. "The insurgents could be out there too. It's not worth it."