Putin warns Kosovo will 'come back to knock' West
Russia's NATO envoy warns of 'brute military force
MOSCOW, Saturday (AP) - President Vladimir Putin issued a sharp warning to the West about the consequences of recognizing Kosovo's independence, saying the decision would ''come back to knock them on the head.'' The comments, made during an informal meeting of leaders from ex-Soviet republics Friday, were the strongest by the Russian leader since Sunday when Kosovo made its declaration of independence from Serbia.
They followed statements made earlier Friday by Russia's envoy to NATO, who warned the alliance against overstepping its mandate in Kosovo and said Moscow might be forced to use ''brute military force'' to maintain respect on the world scene. Putin used the meeting of presidents from the Commonwealth of Independent States -- a loose, Russian dominated organization of former Soviet states -- to harshly lambast Western nations that have recognized Kosovo's independence. Among them are the United States, Britain, Germany and France.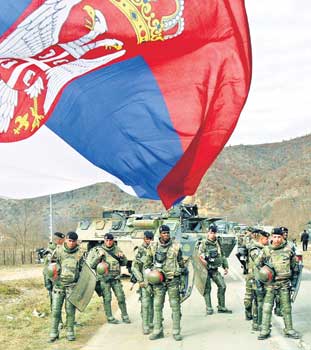 French soldiers of the Kosovo Force (KFOR) block a road near the Serbia-Kosovo border crossing of Jarinje on Friday. Reuters
''The Kosovo precedent is a terrifying precedent. It in essence is breaking open the entire system of international relations that have prevailed not just for decades but for centuries. And it without a doubt will bring on itself an entire chain of unforeseen consequences,'' he said in televised comments. Those who have recognized Kosovo ''are miscalculating what they are doing. In the end, this is a stick with two ends and that other end will come back to knock them on the head someday,'' he said.
Moscow has heatedly protested the Kosovo declaration, which has sparked violent protests in Serbia and international disagreement over whether to recognize the fledgling nation. Earlier Friday, Russia's NATO ambassador, Dmitry Rogozin, said the Russian military also might get involved if all European Union nations recognize Kosovo's independence without United Nations agreement and if NATO oversteps its authority in Kosovo.He couched his threat, however, assuring that Russia was not currently making plans for a military confrontation.
''If the European Union works out a single position or NATO goes beyond its current mandate in Kosovo, these organizations will conflict with the United Nations,'' Rogozin said in a televised hookup from NATO headquarters in Brussels, Belgium. If that happens, Russia ''will proceed from the assumption that to be respected, we have to use brute military force,'' he said.
Rogozin's comments sparked quick reaction from the U.S. State Department, which urged Russia to repudiate them. The U.S. ambassador to NATO said Washington was ''very disappointed'' by Russia's hostility over Kosovo, and Nicholas Burns, the U.S. State Department's third-ranking official, called Rogozin's statement ''highly irresponsible.''
''This cynical and historical comment by the Russian ambassador should be repudiated by his own government,'' Burns said responding to questions in an online discussion. Later, Sergei Yastrzhembsky, Russia's envoy to the European Union, used a more conciliatory tone, saying the Kosovo problem should be resolved exclusively by political means.
Rogozin -- an outspoken nationalist known for his tough rhetoric -- told NATO that its 16,000 peacekeepers in Kosovo must ''remain neutral'' over the contentious declaration. ''Under no circumstances should the alliance get involved in politics,'' Rogozin said. However, Moscow already was alarmed by reports that authorities in Kosovo had closed the border with Serbia.
Local authorities patrol Kosovo's borders, but the main responsibility for security lies with NATO peacekeepers. On Friday, they sent back several busloads of Serbs seeking to join a rally in the Kosovo Serb stronghold of Kosovska Mitrovica.
US accuses Serbia of failing to protect embassies
BELGRADE, Saturday (Reuters) - The United States accused Serbia of failing to protect embassies from attack over Western support for Kosovo's independence, and the EU said such violence could damage Belgrade's prospects of closer ties.
A U.S. embassy spokeswoman said families of diplomats and support staff were being evacuated after rioters stormed the building in Belgrade and set it on fire on Thursday. The ambassador and core staff would remain. "They had an obligation to protect diplomatic missions and from what we can tell, the police presence was either inadequate or unresponsive at the time," U.S. Secretary of State Condoleezza Rice told reporters in Washington.
"We do hold the Serb government responsible. We've made that very clear. We don't expect that to happen again," she said. The U.N. Security Council condemned the "mob attacks" that occurred after a mass state rally over Kosovo. Serbia blamed the violence on isolated vandals.
A young man was found dead in the U.S. embassy. The British, German, Croatian and Turkish missions were also attacked. "Things will have to calm down before we can recuperate the climate that would allow for any contact to move on the SAA (Stabilisation and Association Agreement)," European Union foreign policy chief Javier Solana said.