Tanya the Tooth Fairy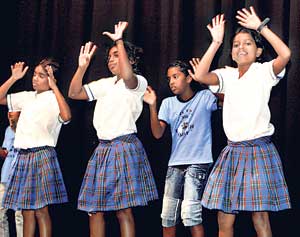 The popular musical comedy Tanya the Tooth Fairy will be brought to life by the Junior School of Colombo International School. Over 200 kids will be part of the production, produced and directed by Yusra Mushtaq.
The play is set in an ordinary school, like yours, with a teacher by the name of Miss Pettigrew (Aanya Hirda) and a very strict PE teacher, Mr. Slake (Manikersh Palaninathan), who runs a boxing club. Miss Pettigrew is completely dreading the arrival of the school inspector, Mr. Hardcastle (Maneshka Karunananda).
Then there is Sam, (Rishitharan Ranjan) the school caretaker and Doris (Nela Aluvihare) the cleaner, who are totally in love and in fact Doris feels it is time Sam proposed to her.
The story line also includes Brian (Aly Chatoor) the school bully who has a reputation to maintain and naughty Tommy (Mevin Manamperi) who hates school. Then there are the siblings Bill (Eran Fernando) and Jill (Amrita Khandpur) who cannot tolerate each other in the least. One night, after a huge fight, Bill's tooth is knocked out, and in comes Tanya the tooth fairy (Keshya Amarasinghe).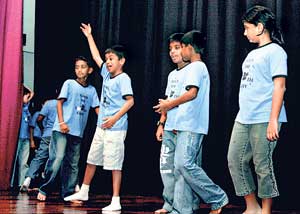 But because Bill and Jill do not believe in fairies, the wicked witch (Aishwarya Jayasinghe) takes control and orders all birthdays to be cancelled this year! Then she arranges for two burglars to steal all the birthday presents downstairs. Luckily Tanya regains her magic and the children's toys come alive to thwart the burglars and finally a policeman escorts the burglars away.
However the story isn't over yet because the witch re-appears and steals Tanya's magic ring and without the ring, Tanya is powerless and becomes an ordinary girl.
And what does the witch do, well, she thinks it will be fun to send Tanya to school and the next day, Tanya finds herself in school.
There is a boxing match, in which Slimbo (Deshan Chu) unexpectedly but triumphantly beats Brian the school bully.
The school inspector is impressed by Tanya's mathematical skills, and even more impressed by Miss Pettigrew who turns out to be his long lost lover. And good news for Doris and Sam, because they end up taking their marriage vows!
Tanya the Tooth Fairy will be staged at the CIS Auditorium on February 29 and March 1, at 6.30p. m. Tickets will be priced at Rs. 400, 500, 600 and 700 and will be available at the Junior School office.