Recognising initiative and strategic thinking, a key motivating factor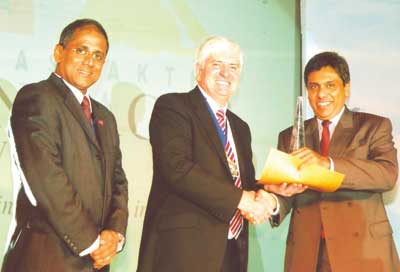 Seen here is Amitha Lal Gooneratne (right) receiving the Business Leader award.
The top award of the CIMA Janashakthi Pinnacle Awards ceremony is the award presented to the Business Leader of the Year.
This award recognises leadership at its pinnacle, executives who hold the top leadership position in their organisations, leaders who have realised and accepted that the proverbial buck stops with them, leaders who provide strong leadership, clear direction, leaders who think strategically and inspire others with their vision and conviction, the institute says.
The joint winner of the Business Leader of Year for 2006 was Amitha Lal Gooneratne, Managing Director of Commercial Bank of Ceylon Limited, according to a CIMA press release.
With Gooneratne at the helm, the Commercial Bank has received many awards from international organisations and rating agencies which have evaluated its portfolio of services and customer centricity as well as its fiscal policies.
While Gooneratne was appreciative of the recognition of his personal contribution and leadership, he was quick to point out that the award was the ultimate recognition of the joint efforts of the management and staff of Commercial Bank of Ceylon.
"I was proud and privileged to be the Gold Award Winner for the Business Leader of the Year 2006. The recognition of initiative and strategic thinking at a national level will hopefully motivate business leaders and managers to reach greater heights in their chosen domains,", Gooneratne said.
The awards of course have great relevance to a wide cross section of the employees of the Commercial Bank who are students and members of CIMA, and thus helps create a resonance of the bank's leadership as the awards have now grown to become one of the top events in Sri Lanka's corporate calendar.
Under Gooneratne's leadership, the Commercial Bank was adjudged as 'The Best Bank in Sri Lanka' by Euromoney Magazine (UK). The Euromoney Award for Excellence recognises the Best Banks from over 100 countries worldwide, based on leadership, innovation and excellence in the services they provide.