Lanka's first business plan competition kicks off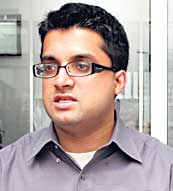 Lafir Thassim
Qtex Solutions (Pvt) Ltd this week announced the launch of Sri Lanka's first business plan competition which aims to encourage the development of entrepreneurial thinking among Sri Lankans by awarding prizes for the best business plan submission.
Qtex Solutions Chairman Lafir Thassim, who is based in New York visited Sri Lanka last month and briefed The Sunday Times FT on the competition, saying: "Young entrepreneurs today need two things, advice and capital.
They need the advice on how to create a sustainable business out of their great ideas and the capital and financing to help make that business a reality."
This competition is free of charge and open to all Sri Lankan citizens over the age of 21years. It is in association with the Entrepreneurship Foundation based in Fairfield, Connecticut, USA and is a community service initiative of Qtex Solutions. This partnership leverages the Entrepreneurship Foundation's experience in managing business plans and Qtex Solutions' skills in implementing innovative solutions in the Sri Lankan market. Details of how to submit applications will be available at leading Educational Institutes, Accounting Bodies, Universities, and online at http://www.qtex.com. Thassim also said "this competition is a good opportunity for all of Sri Lanka's young professionals to apply their education and theoretical learning in the development of a practical business idea."
The competition will be conducted in English and the preliminary stage will be submitted online. The second stage will involve a more detailed business plan and investor presentation by 10 finalists. The 10 finalists will be chosen at the end of the preliminary stage by a panel of judges from leading personalities in Sri Lankan business and academic circles. This competition will begin on February 24 (today) and the preliminary round will end in early April. The final stage will be completed by July.
There will be significant cash prizes awarded for the best submissions. These top submissions will also get the opportunity to pitch for further capital investment and business development support. The Sunday Times FT is the media sponsor of this unique competition.