PC Pharma plans drug manufacturing plant here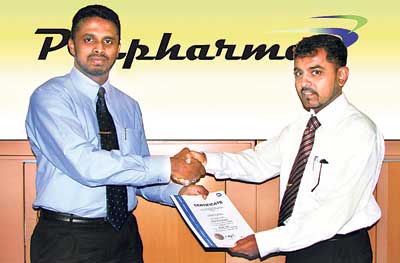 Picture shows from right -- Hemantha Weerasinghe, Country Manager – TUV Lanka Pvt Ltd Sri Lanka branch of TUV-SUD Germany, handing over the ISO certificate to Dilshad Ikram, General Manager - PC Pharma.
PC Pharma, a fully owned subsidiary of PCH holdings which recently obtained the ISO 9001:2000 certification, is conducting a feasibility study to set up a drug manufacturing plant in Sri Lanka that will revolutionize the local pharmaceutical industry
Dilshad Ikram, General Manager of PC Pharma said, "From the initial stages of operations, we wanted our company to be ISO certified; therefore, the initial groundwork started about a year ago. We applied for ISO 9001 certification few months back, and it was easy to meet the ISO standards as the practices and process, which had been adopted by PCP from its very inception, were systematic." He said with the ISO recognition the company is set to strategically expand operations further and 'we are planning to partner with some of the internationally acclaimed pharmaceutical manufacturers in the world to bring down some new niche molecules to Sri Lanka which are specific to cardiac, Central Nervous System (CNS) and allergy treatment.'
PC Pharma is a subsidiary of the heavily diversified PCH Holdings (Pvt.) Ltd. that has ventured into other sectors such as computer assembling, hardware and software, office automation, consumer electronics, audio visual, restaurant, automobiles and property development.