Eelam War IV spreads far and wide
Bus travellers and other vehicle users face constant threat, parents anxious about children
Deadlines change and goal-posts shift as LTTE reportedly replenishes stocks
Troops make headway on two northern fronts but Tigers carry out diversionary attacks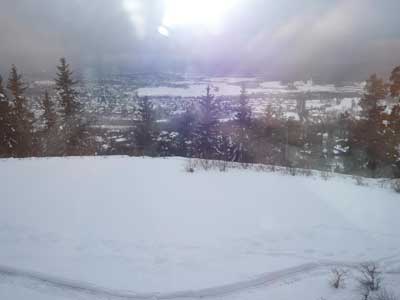 Last week's The Sunday Times photo of snow laden Oslo taken from the ski resort of Holmenkollen.
The idyllic snow covered Holmenkollen Park Hotel outside Norway's capital of Oslo, where the Sri Lanka Government and the Liberation Tigers of Tamil Eelam (LTTE) once agreed in December 2002 to explore a federal structure to end the ethnic conflict, formed the setting.
The temperatures outside dropped to below zero levels. A few days ago, inside a heated discussion room, the spotlight turned to Sri Lanka and the raging Eelam War IV. A small group of media personnel from different countries had gathered to plan a bigger event, the Global Inter Media Dialogue (GIMD) in Indonesia later this year. I was one among them.
Taking centre-stage during the planning session was the subject of reporting conflict. That naturally turned the focus on the ongoing war in Sri Lanka and the role of the media. It centred not only on the media's coverage of the war but all its related issues including the many constraints in projecting a correct picture. More on these issues will unfold when the bigger event, the GIMD, takes place. Journalists worldwide including some leading heavy weights in the profession are billed to be present.
My return to Sri Lanka was eventful for only one reason - the dawn of a new and striking reality. Having convinced alert Customs officials that I had nothing dutiable to declare, it took me little time to get into a car to begin my journey home. It was smooth until I arrived at an ad hoc Police checkpoint in the dual carriageway just ahead of Kirullapone town. It was soon after midnight. On either side of the road, there were some twenty police officers including Inspectors and Sub Inspectors, carrying both assault rifles and pistols. Some wore helmets and ammunition pouches across their chests.
There a police officer first conducted an identity check. I had produced my passport. He took a close look at it and examined the counterfoil of the air ticket that lay within. Thereafter, they wanted to examine my baggage. It was dark and I could not see the combination lock. There was no torch light. I had to wait for a few minutes until one of them found one. It was blinking. The battery in it had evidently given better service and seemed on its last stage. My bags were subjected to scrutiny, item by item. Folded shirts and suits were stretched to see whether anything was concealed within. A bag containing toiletries was opened and a police officer then shook a small can of shaving foam, much the same way a bartender would a cocktail mixer. It made no difference. "What country you are returning from," I was queried.
From Scandinavia, I replied. The police constable, I felt, was puzzled. Perhaps he had not heard it before. He shook his head and waved his right hand. It was to signal that I could leave. When I entered the car, I realised another police officer had gone to work checking my brief case that was in the back seat. This was whilst I was outside watching my bags being checked. Some documents were on the seat and others including a camera were on the floor. As I prepared to leave, I saw the belongings of others being checked thoroughly after their vehicles were stopped. There was at least another who had to open a large suitcase for detailed examination.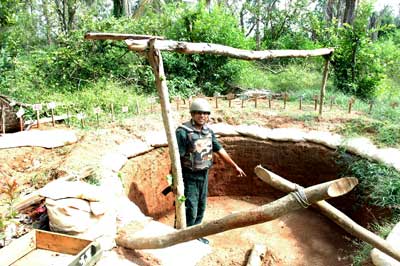 An Army soldier points to a guerrilla gun position in an area re-captured in the Mannar sector. Photo: Saman Kariyawasam
Relating this episode is by no means to complain about the Police or the conduct of the men involved in the search. They were certainly not rude. I had heard even before my return that a group of police officers including an Inspector who staffed a checkpoint at Medawachchiya were interdicted. This was for their alleged failure to check a vehicle. It had reportedly helped guerrillas smuggle suicide jackets to the south. One such jacket had been detected in a van at Wattala. During inquiries it had transpired that the van had come past Medawachchiya.
Later, I learnt from a senior police official that most of the personnel deployed at checkpoints were from the outstations and were not experienced. "They do not want to take chances and open themselves for disciplinary action," he said. The newer measures came in after the guerrillas exploded a claymore mine in Ja-ela on January 2 killing non-cabinet rank Minister for Nation Building, D.M. Dassanayake.
Yet, the duty the policemen, home guards and troops perform has become an essential pre-requisite to prevent major Tiger guerrilla attacks in the City of Colombo or the immediate suburbs. The fact that a large concentration of Police and Home Guards has saturated military strength is undoubtedly one of the reasons why the guerrillas cannot mount major attacks very easily. There is an armed man (or even a woman) at practically every junction or intersection. In most places, one could hardly move a few metres without encountering them.
No doubt, this saturation of armed men and women means the deployment of a bigger strength. Sustaining them involves higher financial commitment. They would keep increasing as more and more areas require enhanced security. Most importantly, those deployed would have to maintain a higher level of alert at all times.
All this has spawned a new ground reality. The ongoing Eelam War IV has assumed a more fearsome character absent during the previous phases. Most Sri Lankans are forced to feel the effect of the war than anytime before. It is not only when travelling on the road, particularly in buses. Parents live in trepidation till children who leave home for school return.
There is anxiety among families when their breadwinners delay returning home. On days when guerrilla bomb explosions or attacks are reported, Police stations as well as media outlets are deluged more with telephone calls seeking information. On an average, a civilian at least has one encounter with a checkpoint if they set out on the road, be it in the city of Colombo or most other areas.
That is the inevitability of waging Eelam War IV. The fact that such measures would enhance as the war heats up has to be accepted. In the city and the suburbs, this grim reality is underscored by the recent arrest of a group of suspected Tiger guerrillas including sectional leaders and handlers. Some of the important ones among them have confessed there is a sizeable presence of guerrilla cadres in the greater Colombo area but continued military and police action has put them in disarray. At least some of them had fled to the hill country after communication links were disrupted. Others, Police sources say, have gone underground. But, Police warn that their return to violent activity was a matter of time.
It is in this backdrop that the Security Forces are fighting the Tiger guerrillas in the Wanni on different fronts. In the recent weeks, battles have been raging largely in two sectors - the general area of Mannar and north of Janakapura in Weli Oya. In the general area north of Mannar, troops are advancing into guerrilla-dominated territory on two different fronts. In one, the thrust is east of the Giant's Tank, where they have extended their defended localities considerably by seizing new ground.
This has brought under their control the villages of Maruthankulam, Udhayanthankulam and Villattikulam. Earlier, troops moved into Periyathampanai after the guerrillas beat a retreat. Troops have now come closer to their goal - seizing areas in and around the sacred Madhu church. A high-ranking Army source in Mannar said yesterday troops were less than three kilometres from the area but declined to say when they hope to re-capture them.
The second thrust by troops in Mannar is from west of the Giant's Tank. Here, troops have extended their defended localities stretching from the western coast to near the tank. The advance in this sector is to move towards the coastal village of Vidattaltivu where a Sea Tiger base is located. As reported earlier, this base has assumed greater significance after the military seized control of the coastal village of Silavathurai, south of Mannar. Since then, the guerrillas from Vidattaltivu are carrying out smuggling of both military and medical supplies from safe houses in the southern Indian state of Tamil Nadu to Sri Lanka.
Military offensives in the Mannar area against guerrillas began on July 2, last year. Army sources in Mannar say that compared to previous phases of the Eelam War, close quarter confrontations have been relatively less. There has been constant firing of artillery, mortar and improvised shells, the source added. This is in addition to advancing troops facing heavy minefields.
The thrust northwards from Janakapura (in the Weli Oya sector) began on January 7, this year. Weeks later more troops were deployed to seize terrain and extend the defended localities situated north-east of Ethavetunuwewa and westwards from the coastal fishing village of Kokkutuduwai. However, though they are extents "no man's land", they had been heavily mined. Yet, the seizure of these areas gives the troops a greater advantage for their onward movement to terrain south of the lagoons at Thannimuruppu and Nayaru. The guerrilla strongholds in Mullaitivu lay further northwards.
In the recent confrontations in this sector, Army sources say, groups of female cadres had been deployed to stall the advance of troops. "It appears that they are newly recruited female cadres. Troops were able to break through cordons placed by them in limited confrontations," the sources added. Besides the two major sectors of battles in Mannar and Weli Oya, troops are also carrying out sporadic southward incursions from locations astride the Muhamalai defence lines. It stretches from Kilali in the West to Nagerkovil in the north and is located on the thin isthmus that links the Jaffna peninsula to mainland Sri Lanka. After a major offensive to move southwards in November, last year, no major southerly offensive has been launched to seize guerrilla territory.
There are fears in the security establishment that the guerrillas may continue to carry out attacks outside the battle areas of the North. This is to take the pressure off and force the authorities to re-deploy troops and police elsewhere. The latest such incident took place on Navam Poya last Wednesday. Three soldiers, who were part of a route clearing patrol, were shot dead at Dambakotte on the Kataragama-Buttala Road. The village is located near Galge, the scene of an earlier attack that wounded five soldiers on patrol. (Visit our political commentary)
Since carrying out a claymore mine attack on a bus near Buttala, killing 27 civilians and injuring 63 on January 16, a group of guerrillas have been responsible for destabilising this part of the Deep South. The next day they shot dead five farmers at Okkampitiya. Later, ten more civilians were killed in two separate incidents near Tanamalwila. Wednesday's incident is further confirmation that the guerrilla group responsible for the string of attacks has still not been neutralised. Another major search operation has got under way to track them down. Similar operations previously did not produce results.
This is amidst fears that possible attacks in other villages, following the same pattern, would only cause further destabilising effects. This may in addition force the authorities to raise more civilian militias in addition to deploying more troops and police. Furthermore, reports also speak of threats to Sinhala villages facing areas dominated by the guerrillas. They had become even more vulnerable now.
There is also growing concern over more attacks on civilians. Yesterday, a guerrilla attempt to trigger off an explosion inside a bus to cause civilian casualties was thwarted by the alertness of a passenger who noticed a large parcel in the rear seat of a private bus and alerted fellow travellers and the crew. All of them alighted hurriedly and later alerted the police. However, before they could arrive, the bomb exploded causing heavy damage to the bus. Minor injuries were caused to some 18 passers by. They were treated at the Kalubowila Hospital.
The incident came barely 24 hours after the Liberation Tigers of Tamil Eelam (LTTE) declared in a statement that eight civilians including three children were killed during an air raid at Pooneryn on Friday. The Tamilnet web site posted photographs of the reported casualties including images of dead children.
The incident lays bare a fact which has been often pointed out. The Tiger guerrilla capability to carry out attacks in the City of Colombo or the suburbs still remains and could be put together at short notice. Even if a heavy saturation of police, troops and home guards have denied the guerrillas the possibility of staging major attacks, placing bombs in a bus, it has become clear, is still possible. Thus, the mostly less privileged sections of Sri Lankan society who use pubic transport are more vulnerable.
Detailed reporting of facts or comments on some aspects relating to this, or on the fighting in the Wanni region is not possible due to serious constraints. However, two important aspects could be briefly summarised. One is the belief in the intelligence community that the guerrillas have succeeded in replenishing stocks of military hardware in the first week of February.
The other is the shifting of goal posts, or the deadline set to finish the Tiger guerrillas militarily. Both political and military leaders said the guerrillas would be "extinct" by the end of this year. Now, some of them say it would only be from 2009. Thus, such forecasts are no different to previous assertions by political and military leaders who made headlines with their deadlines. All this means there will be more war. And that means more pressure on the Sri Lankans. They will have to remain more vigilant as the vast majority of them continue to live in mortal fear.