Sri Lanka to introduce one laptop per child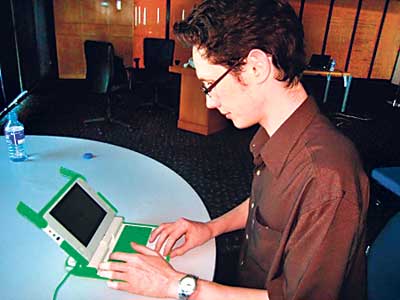 Matt Keller with a laptop
Two-million primary school children are to be provided with US$ 100-worth laptops under a farsighted initiative.
This is being launched by One Laptop Per Child (OLPC), a US based organisation in collaboration with the Education Department and several local and foreign financial, technological and academic institutions.
Director OLPC Europe, Middle East and Asia Matt Keller, in an interview with The Sunday Times FT, said the World Bank has stepped into fund a pilot project to introduce laptops as an educational tool in nine provinces in the island.
OLPC Lanka Foundation has been set up to implement this massive education project aimed at supplying this learning tool into rural children's hands.
This foundation will coordinate the logistical challenges in getting the project off the ground. If the government fully endorses the project, the non-profit foundation may be able to import the laptops duty-free, Keller said .He added that Sri Lankan children in most remote rural areas will be given the opportunity to explore their own potential, to be exposed to innovative ideas, and to contribute to a more productive world community.
He pointed out that Sri Lanka's Education Ministry is also considering including the 'Laptop'(project) into its primary education programme with private sector assistance. This Laptop per child which operates on less than a watt of energy has a one gigabyte memory, and a battery life of 15 hours.
These laptops could also be operated using solar power. Its built-in wireless capability can detect networks up to three kilometers away, the laptop is called the XO and it embodies the theories of constructionism first developed by MIT Media lab Professor Symour Papert in the 1960's, and later elaborated upon by Alan Kay, complemented by the principals articulated by Nicholas Negroponte in his book, Being Digital. OLPC is committed to getting the XO into the hands of hundreds of millions of children within the next seven years. Its unique mesh-net working system will allow many children to communicate instantaneously with each in their own communities and across the world.
Keller said that the lack of ready Internet access in many parts of rural Sri Lanka will not prevent children in the vicinity from sharing ideas, designs, concepts, or simply chatting with each other through their computers.
This is because the laptops can talk to each other through a "mesh" over a fairly long distance, he said. He added that users also have access to a Linux-based text editing programme, an e-book reader, drawing, painting and music composition tools, and an in-built video camera.