Little bundles of joy get bundles of gifts
The smile on 26-year-old Fathima Hana's face said it all. She is the proud mother of a brand new baby girl who was also the lucky one to be the "first-born" in 2008 at the Castle Street Hospital. Still without a name, when we saw her in Ward 7 last Wednesday, the little one all wrapped up had been born at 12.04, just beyond midnight, and into the early morn of January 1, heralded to the world by a burst of crackers as people welcomed the New Year.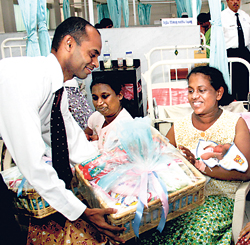 A mother, all smiles, accepts the hamper.
"She will be named at a religious ceremony in a few days after I return home," says Fathima who is from Malwana, holding her baby close. "My husband is running a small business of repairing watches and we have another four-year-old daughter." Wednesday, January 2, brought more joy to the mothers who had given birth to babies on New Year's Day, as Hilton Colombo staff came from the plush hotel bearing gifts for them.
"We are very happy to receive this gift pack because these items are a must-have for a baby but people like us at times can't afford to buy them," said Fathima during the ceremony organized by Hilton to felicitate and present hampers of essential baby items to mothers of 21 lucky babies born on January 1 at the hospital.
The joy was evident, as the eyes of young mothers carrying their day-old infants wrapped in blankets, lit up on seeing the gifts – nappies, blankets with hood, baby shirts, bathrobes, bibs, pampers, pillow-case sets, baby lotion, cologne and soap and feeding bottles, all thoughtfully packed for them by the hotel.
Thalisma Lifthika from Aluthkade, who had given birth to her third daughter Ikra at 2.15 a.m. on January 1, said that she and her husband who is employed at a travel agency, managed to buy only "some" items needed for the baby. They were hoping to buy the rest after the baby was born. "This hamper is a great help for us because it consists of quality baby items that we are in need of," said a smiling Thalisma.
Explaining that felicitating the first 21 babies born in the New Year at the hospital was part of the hotel's '21 theme' during its 21st anniversary celebrations, Hilton's Marketing Communications Manager Gigi De Silva said that various programmes had been held since September, last year in this connection.
Projects such as this will help foster links between government hospitals and the corporate sector, added Hospital Director Dr. Wimal Karannagoda.