A first lady with a heart of gold
Elina Jayewardene
I write this tribute with a great sense of gratitude to a lady par excellence whom I have revered, deep in my heart and served loyally during the period I was with President J.R. Jayewardene as his Protective Officer. My memories and experiences with President Jayewardene are many. They are most rewarding and unforgettable.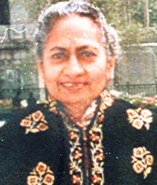 Elina Jayawardana
I would venture to mention one simple incident for which, if I did not reveal and let all know, I would be among the ungrateful to that great lady, Elina Jayewardene. It was on March 19, 1991 that my wife Rameena (now deceased) and son Zulki made a courtesy call at 'Braemer'.
I thought it would be more appropriate to pay this visit when my son equalled the wicket-keeping record for taking the highest number of victims in a series (1990-91) at the Royal-Thomian big match. My son wore the college blazer on this occasion and was introduced to President and Madam Jayewardene.
As a true Royalist, President Jayewardene was happy indeed of my son's achievement and called for his blazer. He was keen to wear it. I helped him to put it on. Reminiscing he showed us his cricket colours on the blazer, among others.
Madam Jayewardene was so appreciative and she surprised us all. She presented my son with a sovereign gold coin. It was a day to remember. Her gift of that coin is a treasure which will be preserved by our family for a long time. It is not surprising that Mrs. Jayewardene had a heart of gold.
May her soul rest in peace!