A gloriously colourful night!
There was an ambience that was extraordinary! It was a night to remember! The Thomian Society of Colombo, under the baton of its Founder / President, Dr. Vijaya Corea, flaunted an image that was incredibly sublime. The Taj Samudra Hotel was the venue for the "Christmas Rendezvous" last Friday when, from 7.30 p.m. to 1.30 a.m., every moment was filled with mood and excitement. Setting the tone for the dawn of December, everyone participated in singing carols while the loudest table carried away a prize for the fascinating extension of their vocal chords.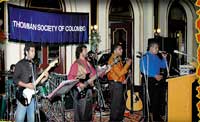 Before and after the sumptuous dinner that everyone enjoyed, there was music for dancing provided by Cosmic Rays which included a Spot Dance and the Baila Competition that was fraught with excitement and pulsating movements. There was an unusual phenomenon amidst the Thomian family and that was the presence of a "Ladies' Only" table replete with old Bridgeteens. The Thomians were quick to recognise their presence and to respond with an award of appreciation to them. Lofty prizes were distributed in their numbers in numerous draws and competitions.
At midnight, Dr Felix Senanayake, a distinguished old boy of S. Thomas' College, Mount Lavinia and the first Sri Lankan in the mid 70s to serve in a London hospital, walked up to TSOC President, Dr Vijaya Corea and donated Rs 100,000/- to Benevolent Fund of the Thomian Society of Colombo which provides scholarships for needy students. Adorning the bandstand were top stars Corrine Almeida and Ronnie Leitch who did not fail to keep the crowd richly entertained.
Event Chairman, Prakash Butani was indeed a happy man, considering that it turned out to be a 'full house' with every ticket sold out three days ahead of the event. This, it appears, is currently a hallmark of all activities of the Thomian Society of Colombo. All in all, "Christmas Rendezvous" was an unforgettable evening with many old ties renewed and new ones made!