Chinese support to boost Lankan film industry
A group of Sri Lankan film artistes including filmmakers, producers, actors recently visited China in search of ways and means to promote local film industry with the support of Chinese cinema. According to the group, the tour has created avenues to make co-production specially when making high budget films. The group that went to China included filmmakers like Prof. Sunil Ariyaratne, Jayantha Chandrasiri, Somaratne Dissanayake, Jackson Anthony, Sarath Dharmasiri, Ravindra Guruge and Dhammika Siriwardena.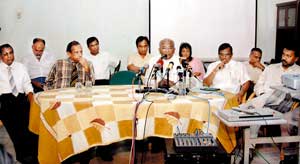 The group of film artistes visited China with the Cultural Minister
Sharing the outcome of the tour National Film Corporation (NFC) Chairman Asoka Serasinghe said the agreement signed between the two countries during their tour has brought many positive results for the development of future Sri Lankan cinema.
The others in the group also shared their ideas. "In order to make big budget films there should be a relatively big market and at least there should be international markets to screen our films," Jackson Anthony said sharing his views on the journey. He has suggested that making films that have connections to both countries would have better chances to promote films internationally.
"Based on historical heroic characters like Chinese commander Chen Hir who has visited Sri Lanka in the 15th century and international trade that developed after that would be one such idea," he said. Among the other ideas to make films related to the two countries was a story about the exploring Chinese monk Fa-Hsien who visited Sri Lanka in 5th century A.D. "It was a great opportunity for the Sri Lankan cinema to get the technical service of massive film studios like Handyan Film Studio in China" says filmmaker Jayantha Chandrasiri.
Film editor Ravindra Guruge says that even after expensive production is completed in Indian laboratories there are still in the prints. Beijing Cine Lab one which the world's top ten laboratories which has a direct connection to Hollywood will be able to get the technical support and will be able to do a better job. If we can find an alternative way to cover the transport cost we will be able to use economical production with high standards, added Somaratne Dissanayake, film maker.
He also said that under this agreement we will be able to import children's films which will be a great opportunity for our children."The support rendered by the Chinese government to develop Sri Lankan cinema was purely due to its goodwill and with a genuine intention," Minister of Cultural Affairs, Mahinda Yapa Abeywardena said.