'The Road from Elephant Pass'
~ An impressive cinematic creation
Work on the new film 'The Road from Elephant Pass' will start from early January next year under the direction of veteran film director Chandran Rutnam. New comer Suranga Ranawaka will play opposite Saumya Liyanage in this film.
"The film is with very limited characters and apart from the main roles, only two other characters will be highlighted" said Chandran at a press conference held last week at the launch of new film company (ABC Cinamagamanaya). The film is produced by John Shiran Dissanayake, the Chairman of ABC Group of Companies.
'The Road from Elephant Pass' will be based on a Sinhala translation of an award winning novel by the late Nihal de Silva. The film will be completed by June, 2008 and according to Chandran, it is billed for release by August next year.
Synopsis of ' The Road from Elephant Pass'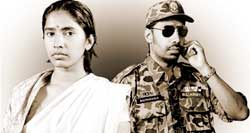 Suranga and Saumya
An army officer's routine assignment to pick up a woman informant near Jaffna turns into a nightmare when the Tigers launch a massive attack in the peninsula targeting the camp at Elephant Pass. The two adversaries are forced to escape together through rebel held Wanni and later, cross the abandoned Wilpattu National Park on foot.
Bitter enemies at the start of their journey, Captain Wasantha and the activist Kamala face innumerable dangers from wild animals and threats by a gang of deserters who make determined and violent efforts to apprehend the woman. The constant external danger, and their enforced dependence on each other gradually erodes their enmity and distrust.
But a shocking revelation confronts Wasantha when he finally reaches Colombo. He is now compelled to choose between his friend and his country.
Chandran Rutnam - Director
Chandran Rutnam has had a distinguished career in the motion picture industry for the last 45 years beginning with "Bridge on the River Kwai" and had the distinction of working with the world's most prestigious filmmakers-David Lean, Carol Reed, Steven Spielberg, George Lucas, John Boorman and Regis Wargnier.
Chandran has supervised the location production of over 35 international films which include 'Indiana Jones and the Temple of Doom", "Jungle Book II", "Tarzan the Ape Man", "Mother Teresa", "Beyond Rangoon'' and "Indochina", and has written, produced and directed three award winning features.
The features "A Love Story" and "Witness to a Killing" that he wrote and directed have represented Sri Lanka at the Tokyo International Film Festival, The Cairo Film Festival and the International Film Festival of India and have won several Asian Awards.
His production of "The Pilgrimage" won the Presidential Award for the Best Picture, for 1999/2000. His latest production 'Mansion by the Lake' directed by Lester James Peries was screened at the Cannes Film Festival in 2003 and was Sri Lanka's first ever official entry to the Academy Awards in California, USA.
Taprobane Pictures (Pvt.) Ltd., headed by Chandran Rutnam and Asoka Perera, co-produced the Presidential Award and Sarasaviya Award winning film 'Mille Soya' for the year 2004. Chandran is preparing the production of 'The Road From Elephant Pass' adapted from the 2003 Gratien Award winning Novel by Nihal de Silva.
He was qualified from the University of Southern California Film School and San Fernando Valley College of Law.
John Shiran Dissanayake - Producer
John Shiran Dissanayake's first glimpse into film-making may have come at the age of eleven, when his uncle (mother's younger brother), Frank Gunasekera, produced 'Hondama Welawa' co-produced with Sarath Rupasinghe. This film, directed by Lenin Morais starred Gamini Fonseka, Malini Fonseka and Vijaya Kumaratunga.
Spurred by his uncle's cinematic creation, Shiran Dissanayake, as a schoolboy took an immediate liking to Sinhala cinema, and slowly built up his skills and knowledge, and by the age of twenty-two, started producing his own films.
The 603rd Sinhala Film to be released was John Shiran Dissanayake's 'Rajina' directed by Thilak Lakshman Seneviratne and starred Amarasiri Kalansooriya, Shirani Nugera, Linton Semage, Mervyn Jayatunga, Somi Ratnayake, Menike Attanayake, Wijeratne Warakagoda, Somalatha Subasinghe and a host of other celebrated artistes. 'Rajina' was released on 15 February, 1985.
Twenty-three years after the release of 'Rajina', Shiran Dissanayake is yet again ready to venture into the Sinhala Cinema. He has now teamed up with internationally renowned film director/producer, Chandran Rutnam, to make a cinematic creation out of the award-winning novel by Nihal De Silva, The Road from Elephant Pass. The film will be based on the Sinhala translation of the book titled 'Alimankada Sita'.